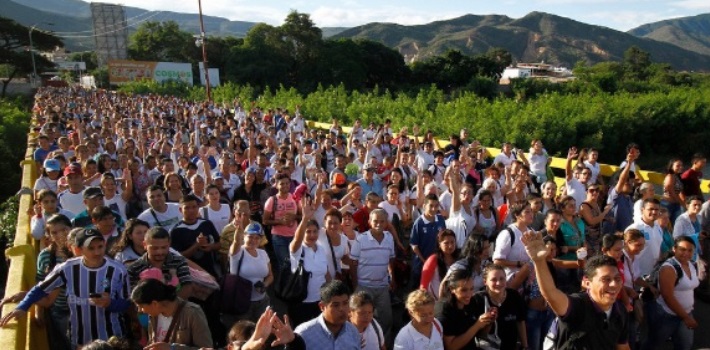 EspañolWhen the Venezuelan government closed its border with Colombia in August, 2015, President Nicolás Maduro deported thousands of Colombian citizens from his country. While claiming that the measure sought to prevent smuggling and shut out Colombian paramilitaries, Maduro violated fundamental rights and separated hundreds of families, even accusing law-abiding residents of being criminals.
This last Sunday, July 10, however, the Colombian people showed their fraternal esteem for Venezuelans. Despite being subject to constant abuses from the Maduro regime, Colombians were willing to give humanitarian aid to thousands of people suffering under food shortages and hunger across the border.
This became evident when over 35,000 Venezuelans crossed the border and entered the Colombian city of Cúcuta. Carrying Colombian pesos, they sought to buy food and medicines, products which they can't find in their own country due to rationing and shortages.
The exodus of Venezuelans to Colombia revealed to the world the true extent of the country's humanitarian crisis. It also proved Delcy Rodríguez, Venezuela's Foreign Minister, wrong. Some weeks ago, she claimed at the Organization of American States (OAS) that Venezuela didn't need international help to solve its worsening problems.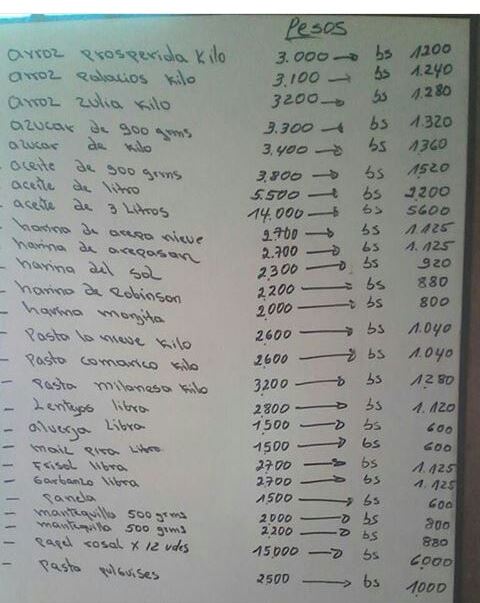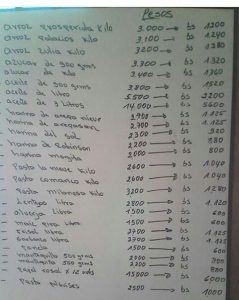 Last Sunday, the Venezuelan government couldn't hide the extent of the food shortages which the Maduro regime has created. The Bolivarian National Guard failed to hold the people back; peacefully, they decided to cross into Cúcuta to buy basic products. Even with the current exchange rate (one Venezuelan Bolívar (VEP) is officially worth 293 Colombian pesos (COP) or USD $0.1), it's far cheaper to buy basic goods in Colombia than from Venezuelan scalpers.
80% of basic products are scarce in Venezuela. Only scalpers benefit from this situation by selling basic goods at a profit of at least 1,000 percent which often reaches 4,000 percent.
This massive entry of Venezuelans into Colombian territory generated worries and chaos in some sectors of  Cúcuta. Faced with an overwhelming demand for products, some stores in the frontier city were left with empty shelves.
People bought basic products like eggs, flour, rice and toilet paper, among others. Many were concerned that they wouldn't be allowed to introduce the recently bought products into Venezeula. William Villamizar Laguado, governor of Colombia's Norte de Santander department, where Cúcuta is the capital, said that only basic products would be allowed across the border.
For their part, Cúcuta residents welcomed the thousands of Venezuelans who crossed the border to stock up on food and basic goods.
"Cúcuta gladly receives Venezuelans," wrote Colombian journalist Reina García. "They welcomed us often in the past. Now, it's our turn."
Mobile Hospital Set up in Colombia for Venezuelans
Starting this week, Cristo Sahium Hospital, which is located in the Venezuelan border county of Villa Rosario, will station a mobile unit on Colombian terriotry next to the Simón Bolivar International Bridge, which connects Colombia and Venezuela.  The mobile unit will remain in place until the border with Colombia is reopened. Its staff will sell medicine to Venezuelans who reach the border area.
According to Juan Alberto Bitar, who is in charge of Norte de Santander's Institute of Health in Colombia, the outpost is necessary to satisfy Venezuelans'  increasing demand for health services, since at least 400 people were crossing the border each week looking for painkillers, hypertension medicines, antibiotics, and supplies such as syringes.
However, since the prices of the prescription products for sale are the same as in the Colombian market, many Venezuelans cannot afford them.
Venezuelans also face uncertainty since it is not clear whether the Maduro government will take measures to restrict future border crossings into Colombia.