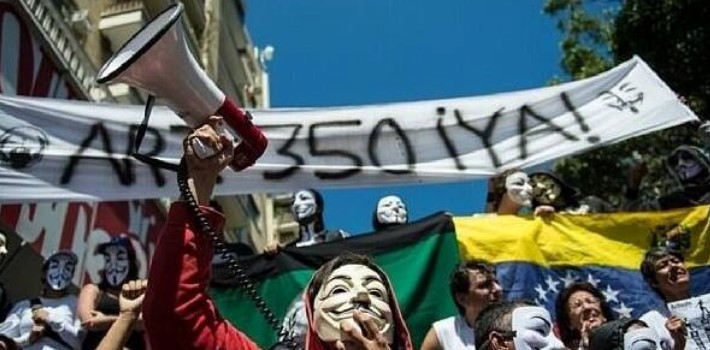 EspañolVenezuelan opposition leader María Corina Machado held a press conference this week in which she insisted citizens rebel should the recall referendum of President Nicolás Maduro not go into effect this year.
As the director of Vente Venezuela, she said she considers it necessary to take a stance against the serious situation in the country, saying that "faced with a dictator, rebellion is the only way."
"The rebellion is already underway and it is a revolt by way of hunger and freedom," she said, claiming that constitutional order would soon be reestablished.
In a meeting with the press, Machado said Venezuela is under the control of a dictator and should begin its transition back to a democracy.
Read More: Perú's New President Means Another Headache for Venezuela's Maduro
"The military should respect and accompany us in this fight," she said. "The regime change could happen this year."
Machado added that the recall referendum has her support if and when it happens this year. However, she said the current adminstration is trying to obstruct it.
"The idea of demanding Maduro's exit has to be done through the recall, or else there will be no other mechanism for making him step down."
She called for freedom in the face of the National Assembly's ignorance and the violation of the constitution by Maduro's adminstration.
Article 350 of the Venezuelan constitution addresses undemocratic regimes:
"The people of Venezuela, faithful to its republican tradition, to its fight for independence, peace and liberty, renounce whichever regime, legislation or authority that counteract the values, principles and democratic gaurentees or that undermine human rights."
Source: Diario Contraste
Correction: this article originally contained a quote wrongly attributed to María Corina Machado.