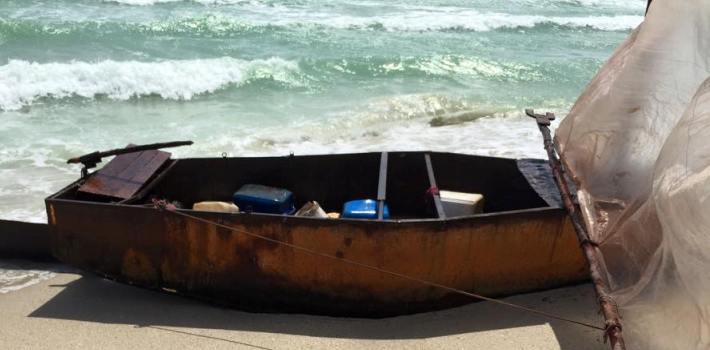 EspañolSince the arrival of former President Hugo Chávez to power in 1999, Venezuelans have feared their worst nightmare: becoming a second Cuba.
On March 29, a Venezuelan died on a raft trying to reach the nearby island of Aruba. Frustrated after the living conditions in Venezuela and seeking success elsewhere, he tried to escape with a strategy so many Cubans have attempted before.
Over the last 15 years,  and with the arrival of the "21st-Century Socialism," more than 1.5 million Venezuelans have decided to emigrate. Until 2014, most of them did so by air, passport in hand, while others decided to cross the border by land.
But in 2015, this pattern seemed to have changed. Three Venezuelan women risked their lives on a raft and arrived at Trinidad and Tobago "looking for a prosperous future."
We can now say that Venezuelan rafters exist and, along with Cubans, are fleeing a socialism that forces them to live in precarious conditions.
Roughly 51 percent of Venezuelans living abroad are young professionals with or pursuing university degrees, and who rely on foreign economies because their nation is in a financial meltdown.
In the early nineties, Venezuelans sent toothpaste, soaps and basic products to Cubans going through the so-called "special period." Now Venezuelans travel to Cuba and other countries in hopes of having such basic products.
The shortage figures on products, food and medicines exceed 70 percent. The capital city of Caracas, the is one of the unsafest in the world. According to pollster Numbeo, it has the worst quality-of-life index. The IMF estimates inflation will close at 720%, the highest in the world, but also with the lowest wages in the region.
Few people with formal jobs in Venezuela can afford to buy a house or a car. Their incomes are barely enough for food.
Traveling is out of the question for many. The price of airline tickets, for example, is prohibitive. A Venezuelan must save a full year salary, and without incurring on any extra spending, in order to buy a ticket to a nearby destination like Aruba.
According to the Economic Analysis Unit, Datanalisis Venezuelans cannot save even a 2%of their income. This situation makes it difficult for them to become independent, start families and provide stability to their homes.
[adrotate group="8″]
All these factors influence the physical, psychological and social stability of Venezuelans. Added to this, there is a constant violation of their rights and freedoms staged by Nicolas Maduro's government. Citizens are afraid to express themselves demanding a change of course in the country.
Venezuela has not formally closed its borders, but the quality of life of its inhabitants is getting worse.
Without a change of course, the Venezuelan crisis will lead more people into such a desperation point that forces them out of their country at "whatever the cost."
Gradually, the stories of Venezuelans rafters will no longer be a novelty.