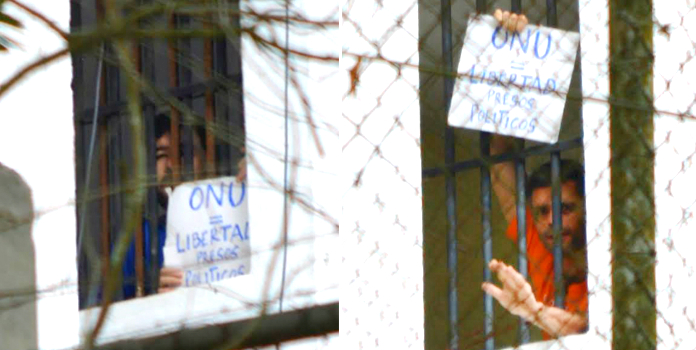 EspañolOn Monday, May 25, Venezuelan state news channel VTV aired an allegedly recorded conversation between Leopoldo López and Daniel Ceballos, in which the jailed opposition politicians are seemingly heard to discuss a plan to organize protests against the Venezuelan government.
The release of the audio file comes after López, who was jailed in February 2014 for purportedly instigating violence during anti-government demonstrations, filmed a video from jail announcing that he and Ceballos are to begin a hunger strike. Ceballos, the former Mayor of San Cristóbal, Táchira State, was subsequently moved to a notoriously dangerous high-security prison, a move his lawyers and family describe as illegal.
Juan Carlos Gutiérrez, defense counsel to López and Ceballos, tells the PanAm Post that the release by VTV is a composite of multiple recordings, and he argues that the Venezuelan government has violated the prisoners' constitutional right to privacy.
What's the current situation of Leopoldo López and Daniel Ceballos?
Both are currently on hunger strike. Yesterday [Monday] I was given access to Leopoldo López, I was with him all the day, and now I'm trying to enter the prison of San Juan de los Morros to certify the health and safety conditions in which he's being held.
What was irregular about the transfer of Ceballos?
Such a decision needs a series of prerequisites: an order from a judge, because it can't be done arbitrarily. It should follow a justification and have a due motive. All relevant parties have to receive full notice, and in this case they didn't know what was happening. This constitutes a human-rights violation.
The most serious element is that yesterday was the first working day after the weekend, and when they took the decision the court was closed. That's to say, there wasn't even the possibility of accessing court records to check all the prerequisites to authorize an act of this kind.
The government said that the hunger strike is a plot by López and Ceballos to escape. Is that possible?
It's illogical. The Ramo Verde military jail is maximum security, and it has a large number of personnel. The features of the complex make escape practically impossible; there are various kinds of military units there guarding the cells.
They also complained that the strike will be an excuse to escape from a hospital, but this is even more senseless, because someone who has spent a week or 15 days without eating, for example, is incapable of escape. Instead, the decision to take a hunger strike is a drastic form of peaceful and legitimate protest.
They are asking for freedom for all political prisoners, the fixing of a date for parliamentary elections held to international transparency standards, and social demands for the people of Venezuela. There's nothing more to say than to invoke the declaration of Malta on hunger strikes, which establishes the protocols about this kind of protest, and demand that they respect the will of López and Ceballos, that they permit them access to doctors, a priest, their lawyers, and families, when it may be necessary.
Why shouldn't a political prisoner be placed in a high-security prison?
In a democratic country, there shouldn't be any political prisoners. A political prisoner is imprisoned for his ideas and not for criminal activity. Daniel Ceballos is at this moment imprisoned in an annexe of the General Penitentiary of Venezuela, which has been described as one of the most violent jails in Latin America.
We want to see what kind of conditions he's in, whether he's being kept with normal prisoners. We appealed to the judge yesterday to reconsider placing Ceballos in another location which will guarantee his physical and mental safety. What would really be most appropriate is for him to be freed.
What does it mean that Venezuela is ignoring an Inter American Court of Human Rights protection order for Ceballos and López?
It means that the government is not fulfilling its promises before the international community. Specifically, the High Commissioner for Human Rights, the Committee Against Torture, and the Working Group on Arbitrary Detention are the most relevant UN bodies concerned with protecting human rights that have spoken out about these cases. These statements are joined by those of Amnesty International, Human Rights Watch, and other well-respected organizations on a global level. Then there's the statements of current and former presidents, and parliamentarians who are daily raising their voices against this grave situation for human rights.
Venezuela, as a member of the United Nations, has the obligation to fulfil all recommendations issued by this body. There is no justification that permits the denial of these Venezuelans' freedom, still less in the conditions in which they're being kept.
López recorded a video from Ramo Verde asking for the support of Venezuelans, but VTV has also issued a recording that appears to compromise López and Ceballos. What can you tell us about this?
We've listened to the audio file carefully and I have to certify, as a criminal lawyer, that it contains cut-off phrases and you can absolutely hear cuts where they've edited it. It's a conversation that has voices mounted on top of each other, so when you play it directly there are incoherent phrases. It's a very poorly made and structured montage.
From the study we've made of this audio, there are lots of voices that don't belong to López or to Ceballos. We're submitting it to forensic study to determine and demonstrate that there's no coherency in the modulation of the voices. We're planning a criminal claim to determine its illegality and fraudulent character, and to determine those responsible.
We understand that the primary strategy of the government is to discredit and delegitimize the protest and the hunger strike. But this is so badly done and so laughable that it will have no effect.
How did Mario Silva get access to the audio and video if these are in the hands of the authorities?
Unfortunately, we have to believe the hypothesis that, during a violent search of Leopoldo López's cell on Saturday morning, the Venezuelan authorities seized a previously planted audio and video device. They then used the video to try and discredit the hunger strike and the supposed escape plan.
But we're talking about an audiovisual document that they captured during a raid. The military authorities and Mario Silva are in an irregular situation, and as such, it lacks any value as evidence.
Is it legal for prisoners to be secretly monitored in this way?
No, in Venezuela the Constitution protects the privacy of conversations. A telephone or spoken conversation between two people is protected with the right to privacy. The only way that it can be intercepted is through a judicial order, which in this case doesn't exist.
I can assure you that the audio they disseminated is a montage, but this means something even more worrying: they were recording them within the cell. They were capturing sounds to later make this audio composition. Now we know that they're recording them, even in the place where I spoke with them as their lawyer, everything was recorded, not only audio but with cameras. It's part of the psychological mistreatment that Ceballos and López have been victims of.