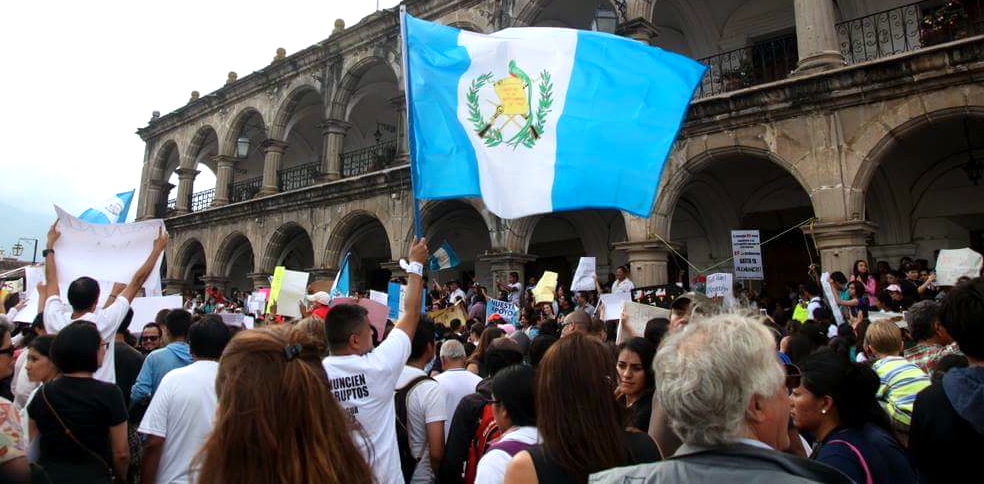 EspañolThe climate of public anger surges on in Guatemala, borne by a spontaneous social movement that has shown no sign of stopping for over a month. A customs fraud scandal, directly involving the fugitive private secretary of Vice President Roxana Baldetti, has led to Baldetti's resignation along with three cabinet ministers, including the departure of Mauricio López Bonilla from the key post of Interior minister.
To reinforce the picture, confirming something that many of us already knew, the Guatemalan Social Security Institute (IGSS) has been denounced for issuing a fraudulent contract to a Mexican firm to provide treatment for dialysis patients. The incompetence of the firm killed 13, and now dozens of corrupt officials and businessmen are under arrest or attempting to evade justice.
Citizen outrage in Guatemala refuses to stop there: it's widely believed that the president himself is involved in the corruption schemes that have implicated officials at all levels, and demands that Otto Pérez Molina renounce his post are growing. But the uproar is at its loudest and fiercest, particularly on social media, when concentrated against Manuel Baldizón, a presidential candidate who is openly promising all kinds of largesse and handouts if he is elected in general elections on September 6.
Baldizón, with wide financial resources behind him (the source of which has also been questioned) and ranked first up until April in public-opinion polls, launched his campaign with the slogan Le toca (His turn), alluding to the fact that the second-placed candidate in recent presidential polls in Guatemala has inevitably won the following election. Just as he came second in 2011 behind Pérez Molina — who in turn narrowly lost out in 2007 — Baldizón hopes that this strategy will secure him the result he wants.
But the public have reacted with uncontrolled anger against him, in a spontaneous movement that has nothing to compare itself to in recent years in Guatemala. "No te toca, Baldizón" (Not your turn, Baldizón) is the rallying cry now witnessed across social networks, bringing together ordinary citizens, unlinked to any party, to candidate meetings that are sweeping the country with a force of a hurricane.
Baldizón is a picaresque figure, a shameless individual who has been linked with corruption schemes and who plagiarized his doctoral thesis and a book he published last year, openly copying them from texts that he found on the internet. Today, he controls various media outlets, and his followers, almost always paid, show an aggressive and inconsiderate approach towards the other parties.
That's why he's provoked the aversion of a wide chunk of the electorate that believes that were he to come to power, corruption would become unstoppable and financially ruin the state, as Baldizón struggles to meet the promises he has made.
But the social movement isn't only rejecting him and his multimillion dollar campaign: throughout the country people from all walks of life have gone out to paint over the illegal propaganda that every party has daubed on rocks, trees, and street lamps, erasing a cynical electioneering strategy that has stained the environment and countryside of Guatemala. Ordinary people want to fundamentally renew a political system which is currently characterized by abuse, embezzlement of funds, and links to narco-trafficking.
There is some cause for optimism. But there are also reasons for concern. A growing chorus of voices demands that the president step down for allegedly being implicated in widespread corruption. But this understandable demand is often accompanied with calls not to hold the general elections, and instead to convoke a constituent assembly to dictate new laws to completely renovate the current political system.
In general, it is organizations of the far left that have demanded this break, which would without doubt signify a leap into the unknown similar to that taken by Venezuela, Bolivia, and other countries, with the terrible consequences that we all know. Some analysts have disingenuously supported the idea of a constituent assembly, ignoring the importance of any nation maintaining a minimum degree of respect for institutions.
The situation is dynamic and changes from day to day, meaning that it's difficult to predict its unraveling. But Guatemala has woken up from its political lethargy, and now shows a resolve for renewal which — in spite of the risks — is encouraging for its future and the rest of Latin America, which also suffers the same evils that afflict this small Central American nation.