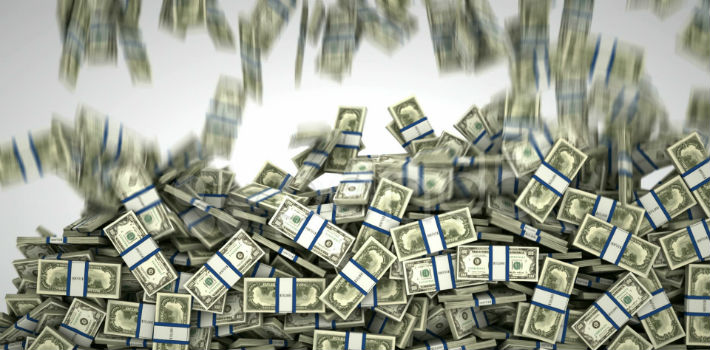 Español A new investigation has uncovered how multiple Venezuelan firms — many with close ties to the government — used their preferential access to government distribution of scarce US dollars to turn massive illicit profits.
At least nine Venezuelan business magnates paid huge sums to sham housing and agricultural companies in Ecuador — benefiting from the opacity of regional currency mechanism Sucre — only for the millions of dollars to end up in their own private offshore bank accounts in the Caribbean.
The paid-for materials were often never delivered, or were provided at massively-inflated prices, according to a report co-authored by Venezuelan news site Armando Info, Ecuadorian daily El Universo, and El Nuevo Herald in the United States.
Almost half of the 60 companies involved have received Venezuelan-government contracts and own subsidiaries in the foreign trade and construction sector.
In 2014, the National Center for Foreign Trade summoned 27 of the implicated firms to review the government's allocation of foreign currency, purchased at the preferential rate of 6.30 Bs. per US dollar — less than 5 percent of the current black-market exchange rate. Eleven of those companies did not respond to their summons and were subsequently fined.
According to Armando Info, all the implicated firms had access to the official foreign-exchange market due to the "high priority" of their imports.
Money for Nothing
One striking example among the irregularities is the case of two firms contracted by the Venezuelan government, who purchased prefabricated house kits from an Ecuadorian firm for roughly US$160 million.
The houses were earmarked for a government housing project of 8,432 homes in Caracas, but the assigned lot in the Valles del Tuy area remains empty.
Legal representatives of contracted firm Thermo Group C.A signed the purchase contract alongside Minister of Housing Ricardo Molina — who remains in his post.
Another of the implicated Venezuelan companies, ELM Import, signed a deal alongside Thermo Group to buy prefabricated houses from Ecuadorian company Global Construction Fund (GCF). In a clear clash of interest, the general director of GCF's Venezuelan branch is Menahem Michel Edery, a senior director of Thermo Group.
Put another way, the Venezuelan government appears to have supported a wealthy corporate figure in making a substantial purchase from his own firm in another country. Significant financial wrongdoing appears to have been the result.
Between December 2012 and March 2013, the value of GCF exports of housing material to Venezuela amounted to $3.1 million. The figure pales into comparison with the amount of money transferred by ELM Import to GCF in return: $159.8 million.
The inconsistency attracted the attention of an Ecuadorian prosecutor, who launched an investigation in July 2013 charging CGF shareholders with money laundering. However, the trial was cancelled in 2014 after it was found that the prosecution didn't have a warrant to seize the firm's commercial property in Ecuador.
This, despite documents in Ecuador indicating that the Venezuelan government paid GCF for exports that were never delivered.
Both ELM Import and Thermo Group appear to have benefited from an atmosphere of opacity and a privileged status among Venezuelan firms, which gave them priority access to dollars at preferential exchange rates.
In 2012 year, foreign exchange regulator Cadivi granted 244 requests from ELM Import to purchase US$210.9 million at a preferential rate, while Thermo Group was successful in 276 requests for $238.5 million.
Trouble on the Farm
Ecuadorian authorities also unveiled another illegal transaction in mid 2013 involving a purported exporter of carrots to Venezuela, registered under a false business address.
The government granted Ecuadorian firms Escastell and Prospermundo S.A. access to $27.8 million through the Sucre compensation system for the sales of vegetables and agricultural machinery to Venezuela.
The firms' owners  promptly used the system to massively overcharge their buyers, selling a US$2,500 maize sheller to Venezuela at a significant mark-up of $410,200.
Colombian national Adriano Castellanos and Ecuadorian Byron Espinosa were the owners of Escatell, while Espinosa's wife Rosalin Mogollón and Castellanos owned Prospermundo. The Ecuadorian couple are serving a four-year prison sentence for money laundering.
Nevertheless, the paper trail looped back to Venezuela. Around US$8 million of the $27.8 million awarded to the firms ended up in the pockets of Venezuelan businessmen Samuel Sánchez Boada ($3.85 million), Pedro Emilio Silva Conde, and his cousin Gustavo Conde Cabrera ($4.5 million).
The trio gained access to the money through their partial ownership of third-party agricultural firms, which were then paid by Escatell.
The trial against Sánchez and Silva has been suspended until they return to Ecuador to be questioned on the operations of Escatell and Prospermudo. While the case continues, the prosecution has already proved that the pair benefited from doctored invoices and overpriced exports.
Translated by Adam Dubove. Edited by Guillermo Jimenez and Laurie Blair.