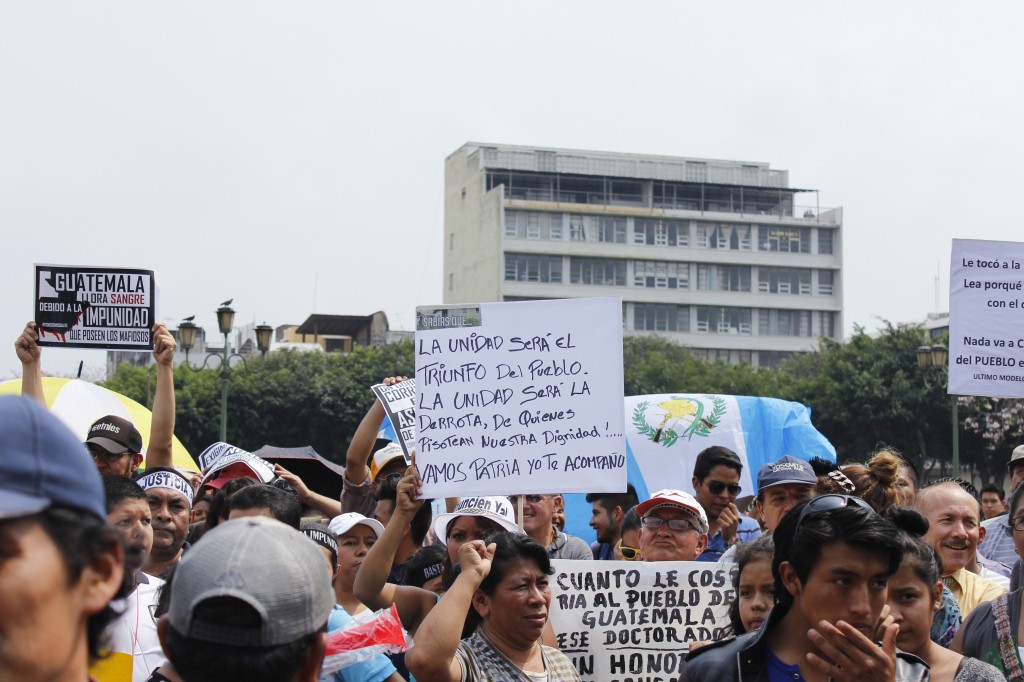 EspañolOn Saturday, April 25, thousands of Guatemalans demonstrated against the widespread corruption that seems to have taken over the country. The police had dismantled days before a tax-evasion scheme headed by no less than Vice President Roxana Baldetti's private secretary, provoking a wave of indignation that shows no sign of slowing down.
Guatemalans are calling for Baldetti's resignation so that she can be prosecuted for her alleged involvement in the criminal network. Many also demand that President Otto Pérez Molina step down. The backlash is widespread and deep, transcending social class, ideology, and party affiliation.
There are desertions even within the ruling Patriot Party (PP) from politicians who want to distance themselves from the scandal. Its presidential candidate, Alejandro Sinibaldi, announced he was abandoning both the race and the party the day after the news broke out. PP congressmen, mayors, and councilmen across the country then followed suit.
What is happening in Guatemala has striking similarities with scandals in Brazil, Argentina, and Chile: Latin Americans are fed up with corruption and perceive that our ever-expanding, power-hungry states seem to respond more to the interests of the rulers than to improving the country.
The fight against corruption is harder than it seems: complaining, or draconian laws alone won't effect change.
In the case of Guatemala, there's an obvious additional layer of complexity increasing the tension: general elections are due to take place in September, and the sinking of the PP ship has dramatically reconfigured the electoral landscape.
With Sinibaldi dropping out, the leading contenders for the presidency are now Manuel Baldizón and Sandra Torres. The former belongs to the more conservative LIDER party, while the latter is the ex-wife of former President Álvaro Colom and heads the social-democratic National Unity of Hope party (UNE). Both share a frankly populist record, which worries an important sector of voters.
No other candidates come close to representing a threat to them, although it's still too early to tell if someone will rise to capitalize on the dissatisfaction of their populism and the current administration's corruption.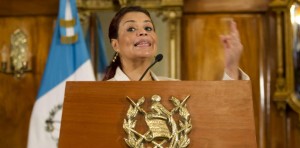 On the other hand, the fight against corruption is harder than it seems: complaining and demanding transparency is not enough; draconian laws alone won't effect change if the state apparatus is corrupted to the bone, when a good share of politicians and officials behave as though they can appropriate public funds without any fear of repercussion.
When governments are in charge of huge budgets and hundreds of positions, doling out spectacular amounts of money in redistribution programs, it's almost impossible to pierce the networks set up to illegally divert public funds. Not to mention the challenge of monitoring the legion of state employees who occupy positions susceptible to corruption.
We have to reshape the state's role in society.
Citizens in Guatemala fear that corruption scandals like the one that has them up in arms today will only be repeated, and even become worse, if either Baldizón or Torres rise to power. If we decide to elect more honest and vigilant candidates into office, we could improve somewhat the accountability of our governments.
But let's not fool ourselves: when corruption is so engrained in every public institution, the mere replacement of a few individuals cannot bring about substantial change. A deeper and far-reaching transformation is needed: we have to reshape the state's role in society.
Governments must revert back to their fundamental function, to provide security, and abandon or drastically reduce extraneous roles: especially the ones that entail transferring wealth between citizens and securing privileges for the few. Only then can officials truly be accountable, and hope to meet with the transparency and honesty demanded of them.
Translated by Daniel Duarte. Edited by Laurie Blair.