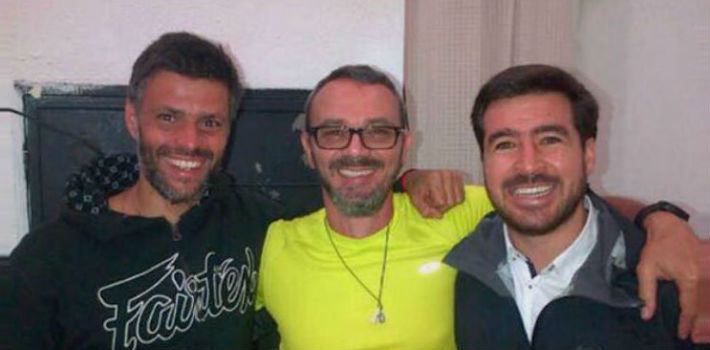 EspañolIn February 2014, a series of anti-government protests rocked Venezuela, leaving several dozen dead and 3,306 in police custody.
Venezuelan authorities used the opportunity to arrest four key opposition leaders: Leopoldo López, Daniel Ceballos, Enzo Scarano, and Salvatore Lucchese.
Lucchese, an attorney and the former police chief of San Diego, Carabobo, served 10 months and 15 days in the Ramo Verde military prison for not complying with a Supreme Court ruling that ordered police to "to take necessary measures in its jurisdiction to prevent barricades."
Prison authorities initially housed Lucchese in a cell block on the second floor meant for prisoners with behavioral issues. López was locked up in the cell next door. Four days after his arrival, he was moved to the first floor, where Scarano and Cabellos were also being held.
When their sentences expired on February 4, the Supreme Court ordered the release of Scarano and Lucchese.
In an exclusive interview with the PanAm Post from his home, Lucchese spoke of his life now as a "former political prisoner" and the "hell" he experienced during his time in Ramo Verde.
What happened the day you found out you were going to jail, and what was the evidence against you?
The Supreme Court cited me over contempt of court. I was certain they would detain me, but I have always said one has to face justice and assume the consequences of one's actions.
I stood before seven unworthy justices that unconstitutionally granted themselves authority on criminal matters. It was clear to me that the justice system was and still serves the interests of a single political party [the ruling United Socialist Party of Venezuela].
The real reason why they imprisoned me was because I did not authorize the use of firearms against my people. I'm not a murderer; our primary weapon is dialogue, and that's why Leopoldo [López], Daniel [Ceballos] and the students were jailed — for protesting peacefully.
Ramo Verde is a Cuban-style prison, ran by the military, where torture is not only psychological, but physical.
What sort of torture did you suffer?
I was punished three times for demanding my rights. Each punishment consisted of 15 days locked up without seeing sunlight. My cell was just 12 square meters, and during the punishment I wasn't allowed any visits. We were made to eat with our hands, and the garbage had to be thrown out the window.
Once, at night, they threw excrement and urine at us. Guards performed 13 violent searches on us; we were beaten and almost stripped naked.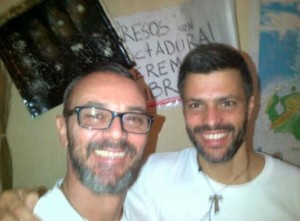 To me they were nothing more than hooded criminals, because a public employee must be properly dressed in his uniform and with his name tag visible, like our laws mandate. They entered our cells with a premeditated plan, and their faces covered. They didn't talk. I don't think they were Venezuelans.
At least twice a week they blasted music from 3 to 6 a.m. trying to "drive you crazy." They cut our water supply so we couldn't shower for a week, and shut the power off.
The psychological torture was intense: they'd wake us up at night, and threatened several times to transfer me to Tocuyito [a notoriously dangerous prison]. When they saw they could not break us, they tried that three more times and then stopped.
They put us through that and there's proof. We denounced them before international courts, because here in Venezuela we lack justice; it's an unfair justice system.
What was your daily routine in prison?
We were treated differently than the other 160 prisoners at Ramo Verde. We were separated from the rest; just the four of us, and we could not interact with anyone else. They only allowed visits from close relatives.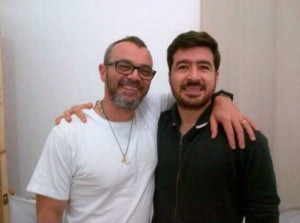 During the first three and a half months, we were completely isolated, and they never opened the cell. They just brought us food and clothing sent by our families. After that, they began opening our cells at around 5:30 a.m. just to see if we were still alive. Leopoldo would read the Bible out load through the bars so we could hear him. There was an echo, and we could communicate with one another.
At 6.30 a.m., I exercised and showered with freezing water. A month a half later, they allowed us to have a TV inside our cells.
At around 8 a.m., I'd read. In total, I read 108 books about Venezuela's history, [Nelson] Mandela, Venezuelan national heroes, and many books on religion. After four or five hours of reading, I had lunch. Then I went back to my reading, I exercised again, and had another shower if possible. The cells were locked down by 7.30 p.m.
After those initial three and a half months, the four of us were allowed to see each other and meet in person. We incorporated time into our daily routine to drafting a government platform to offer the public.
I can assure you that we never experienced any depression; we prepared for a better Venezuela. We promised each other that whoever got out first had to go and convince those who disagree with us, and show them what's really going on in this country — explain that this government has imposed a system that is an utter failure.
What is your stance on the US sanctions against Venezuelan government officials?
I would like to tell the American people that we don't need intervention from abroad. All we ask is that democratic nations voice their support for our human rights. We will solve our own problems through constitutional means.
Venezuela has always expressed solidarity with people around the world, and today we call on others to take a stand. We know economic interests are trumping human rights, but God does not forget.
The United States is sanctioning corrupt officials within this government, that is no secret. Of course, I support sanctions against those who have looted our country, no matter where they come from.
This is an immoral government. It has no dignity to demand or try to convince our people that our enemy is a foreign country. Our enemy is this corrupt and rotten Venezuelan government.
Sooner or later our complaints will be heard, because crimes committed against human rights are not prescribed anywhere in the world.
What do you think about the alleged suicide of Rodolfo "the Aviator" González at SEBIN headquarters?
I'm really sorry if that is true, that such a honorable Venezuelan has become another martyr and killed himself. He couldn't withstand the pressure. That is the government's goal. Since they cannot often kill you directly, they try and drive you to suicide. Such is life in Venezuela's political prisons.
Translated by Daniel Duarte. Edited by Guillermo Jimenez.