EspañolHuman-rights violations against Cuban opposition activists "have continued and increased" since the United States and Cuba began diplomatic talks in December, campaigners from the Caribbean island claimed on Thursday.
Sara Martha Fonseca of the Ladies in White opposition group and the Cuban Democratic Directorate's John Suárez and Janisset Rivero presented their complaints at an Inter-American Commission on Human Rights (IACHR) hearing in Washington on March 19.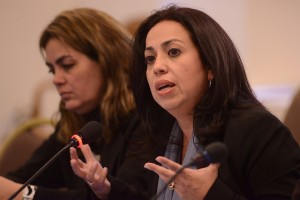 "It is important that human-rights organizations like this one understand that the rights situation in Cuba will worsen," Rivero argued, "because negotiations between the Obama administration and the [Castro] regime are unidirectional and give legitimacy and strength to the repressive regime."
"As the regime's support increases, repression will also surge," the activist claimed, saying that Washington should throw its weight behind the "civic movement" rather than bolstering the government of Cuban President Raúl Castro.
"We don't want to see Cuba becoming China. We don't think that foreign investment and cosmetic reforms will bring Cuba the freedom that it deserves," Rivero added. "There have been 56 years of dictatorship. There must first be freedom to allow openness for the rest of society."
Rivero also said that during the 18 months of "secret" negotiations between Washington and Havana, aggressions against Cuban opposition "have grown exponentially," with hundreds of arrests taking place within the first half of March alone.
Of particular concern for the Cuban activists is a "pre-criminal" law which has allowed the government to imprison many prior to any offense being committed, allegedly to silence their "social discontent."
IACHR commissioner Tracy Robinson in turn emphasized that the specialized agency of the Organization of American States (OAS) had already expressed "concern" over the human-rights situation in Cuba.
Robinson, a commissioner for Jamaica and the IACHR Rapporteur on the Rights of Women, added that Cuba had been asked to "take advantage" of the normalization of ties with Washington to make human-rights concessions, and to make use of IACHR resources and norms.
Source: Infobae.