EspañolThe Central Bank of Venezuela is currently negotiating the swap of some of its international gold reserves with Wall Street financiers. Government sources reported on Tuesday, March 9, that Venezuela hopes to exchange approximately US$1.5 billion worth of gold for an estimated period of four years.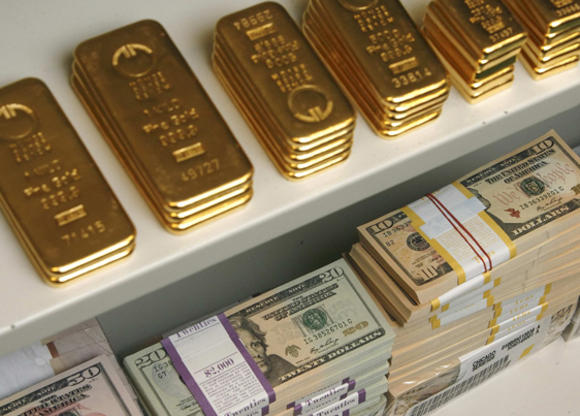 According to Reuters, Venezuela will use 1.4 million ounces of troy gold for the deal, which will return to the country's coffers after the established period. The transaction, involving the Bank of America and Credit Suisse, will likely be concluded by April.
About two-thirds of Venezuela's international reserves are in monetary gold, according to government figures. The exchange is designed to help the Venezuelan government secure much-needed cash to meet its internal and external commitments.
The news emerges days before Venezuela is due to pay a bond of at least $1 billion on March 16. The government has emphatically promised that it will pay the 2015 global bond on time.
Luis Vicente León, an economist and president of local consultancy Datanálisis, reported via Twitter that the exchange could improve the supply of dollars, thus lowering the price of US currency on the black market.
Que impacto tendría el canje de oro en el $ paralelo? El ingreso de divisas podría mejorar la oferta y bajar precio, pero la confianza baja

— Luis Vicente Leon (@luisvicenteleon) March 12, 2015

"What impact would the gold exchange have on the parallel dollar? Foreign exchange earnings could improve supply and lower prices, but reduce trust."
Ramón Rey, researcher at the Legislative Observatory of policy institute CEDICE, told the PanAm Post that the Venezuelan government would secure greater room for maneuver with the trade-off, and that the interest typically paid on such deals is usually low.
Nevertheless, Rey suggested that the income received will most likely be destined for public spending rather than stimulating alternative sources of production and export. If so, he argued, "a dangerous, vicious circle" would be created.
As of Thursday, March 12, one US dollar was traded at 276.50 bolívares on the black market, according to reference portal DolarToday.com. The price of the official dollar, fixed under the newly-created Marginal Currencies System (SIMADI), was meanwhile valued at 93.8 Bs.
Currency Drought?
On Wednesday, March 11, local media reported that the currency exchanges in Venezuela operating on the SIMADI rate don't have enough US dollars for exchange.
Employees said that they were only passing on the dollars sold to them "by the few people" who offered them independently. Some claimed that the Central Bank of Venezuela (BCV) had not made enough liquid reserves available.
On March 5, the BCV convened banks and currency exchanges for a second auction of dollars for retail, but the meeting was subsequently canceled. BCV later announced that it would issue reserves to these institutions directly.
Association of Currency Exchanges President César Atencio confirmed on Wednesday that the BCV had directly allocated dollars, but no details were available about amounts or which entities had benefited.
Since September 2014, dollars have not been allocated through auctions via another government fixed rate, the SICAD system, either.
Boris Ackerman, head of the economic and administrative sciences department at Venezuela's Simón Bolívar University, told the PanAm Post that the country's currency deficit is likely between $25 billion and $35 billion, as a result of large amounts of imports and servicing government debts.
Yet Ackerman signaled that according to government figures, "that deficit doesn't exist, or it's unknown where it was deposited," amounting to a black hole in Venezuela's finances.
CEDICE's Rey explained that the "drought of dollars" is mainly due to the "poor management of public resources and the collapse of oil prices."
He stated that before the drop in the value of crude began, the Venezuelan government was already struggling to meet its commitments to the private sector regarding foreign exchange allocations, as a result of currency exchange controls in force since 2003.
Rey believes that oil and tax revenues have been earmarked mainly to finance public policies and other expenses on a largely ad-hoc basis.
Few Dollars, Fewer Products
The lack of foreign exchange amid growing demand has resulted in shortages of various products and raw materials in the South American country.
Pablo Baraybar, president of Venezuelan food industry body Cavidea, reported that companies in the sector are yet to receive foreign currency allocations so far in 2015.
While the currencies are not settled, Baraybar stated, those elements of production and sales that depend on imports will stagnate, with price controls forming one more impediment of many for businesses.
Venezuelan journalist Nelson Bocaranda tweeted that the shortages could soon extend to a complete shortage of wheat flour.

https://twitter.com/NelsonBocaranda/status/575842449047863296
"Attention: So far there is no order or shipment in port or at sea with wheat flour en route to Venezuela. Are its days numbered?."
Chamber of Commerce Vice President Francisco Martínez similarly lamented that importers don't have a reliable, transparent, and fluid system for the purchase of foreign exchange, which they need to schedule purchases of intermediate goods and raw materials for domestic industries.
Martínez added that this "accelerates the crisis facing Venezuelan companies' inventories, and is therefore reflected on the shelves," suggesting that a "lack of efficiency" was leading to a "drought of currency" in the country.
Translated by Rebeca Morla. Edited by Laurie Blair.