Español Colombian taxi drivers have not taken kindly to the presence of mobile-app Uber, a new ride-sharing service, and this morning sparks flew. Uber offered a special to attract attendees of a music festival, away from regulated taxis, but taxi drivers retaliated on March 13 by blocking a highway in northern Bogotá.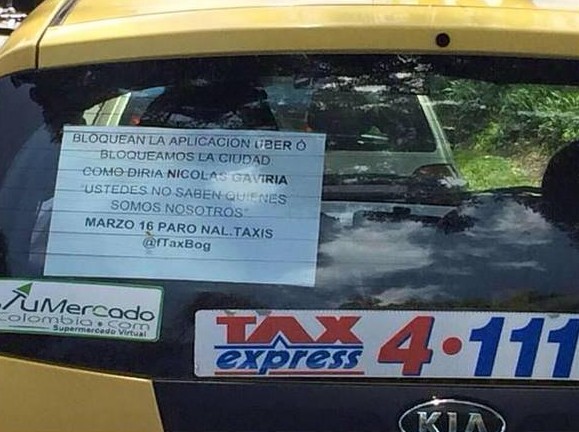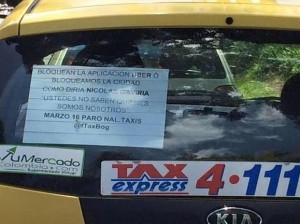 According to some attendees, the taxi drivers harassed those using Uber-provided cars to leave the facilities and forced the passengers to leave the vehicles.
"At [highway] 197 there was a huge traffic jam, and we thought it was due to an accident, but we found that there were some seven taxi drivers blocking the street," a festival attendee told RCN La Radio. "A little later they started blocking the streets again, insulting us and threatening to run us over."
The taxi drivers union has complained that private drivers offering a taxi service is a form of "piracy" and announced a national strike for next Monday, March 16.
"What happened last night is that the union realized that a series of private cars were offering a public service," said Erninoso Bermúdez, a spokesman for the union. "It's not fair that the taxi drivers kill themselves the whole night, and then other people come to do something forbidden and the police do nothing."
Bermúdez went on to deny any aggression against Uber drivers. He said asserted that they hadn't harassed or forced the passengers to leave the cars. However, he admitted that taxi drivers impeded traffic to flow: "We realized they were waiting for the [Uber] users in an illegal way, so we did the operation."
Quiero que respete mi derecho a la autonomía y a libre elección, por eso firmé #YoApoyoUber https://t.co/Z407ITxXVL

— Antonio Rodríguez (@EseTonito) March 13, 2015

"I want my right to autonomy and free choice respected, that's why I signed #ISupportUber."
"It's not illegal, because we were protesting, and we are close to another demonstration next Monday," he added.
On Thursday, the Colombian government promised the taxi drivers that Uber would not be operating in the country. Transportation Minister Natalia Abello said that the government won't regulate Uber and will prosecute those using the platform.
"We won't allow any informality with technological platforms," she told a union leader. However, the government later clarified that it was not a measure against a technological platform but against an openly illegal transportation service.
The spokesman for Uber Colombia, Adriana Garzón, has confirmed that the platform shall continue to operate — not to defy the government, but rather as "an invitation to choice for the citizen."
Sources: RCN Radio, El Espectador.