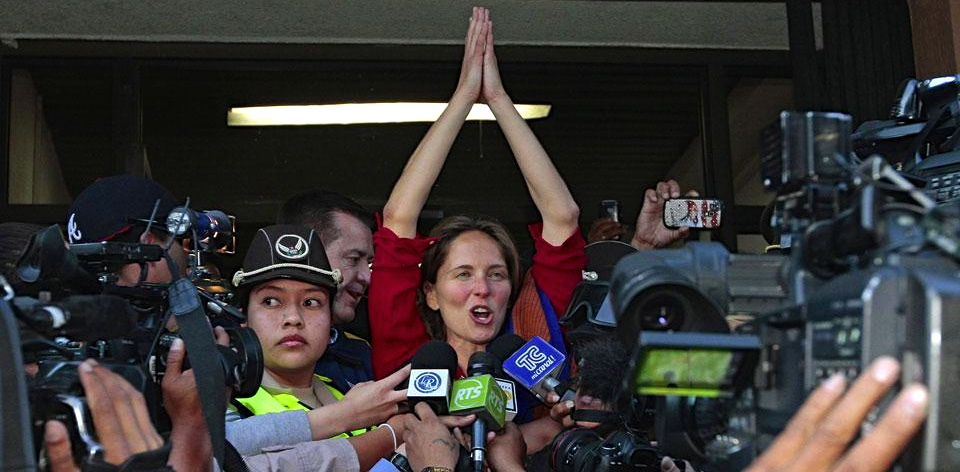 EspañolManuela Picq — a renowned activist, journalist, and academic in Ecuador — and her supporters have plenty to celebrate after a ruling on Monday evening. At the 4 p.m. hearing, local time, Judge Gloria Pinza rejected the attempt by the Ministry of Foreign Affairs to deport her following attendance at the nationwide protests held by the opposition.
Picq, a French and Brazilian citizen, has lived in Ecuador for over eight years on a cultural exchange and risen in prominence in the South American nation. However, from Friday until the ruling on her visa status, she was detained at the "Carrión Hotel," where the government of Rafael Correa keeps individuals who have been reported with irregular immigration status.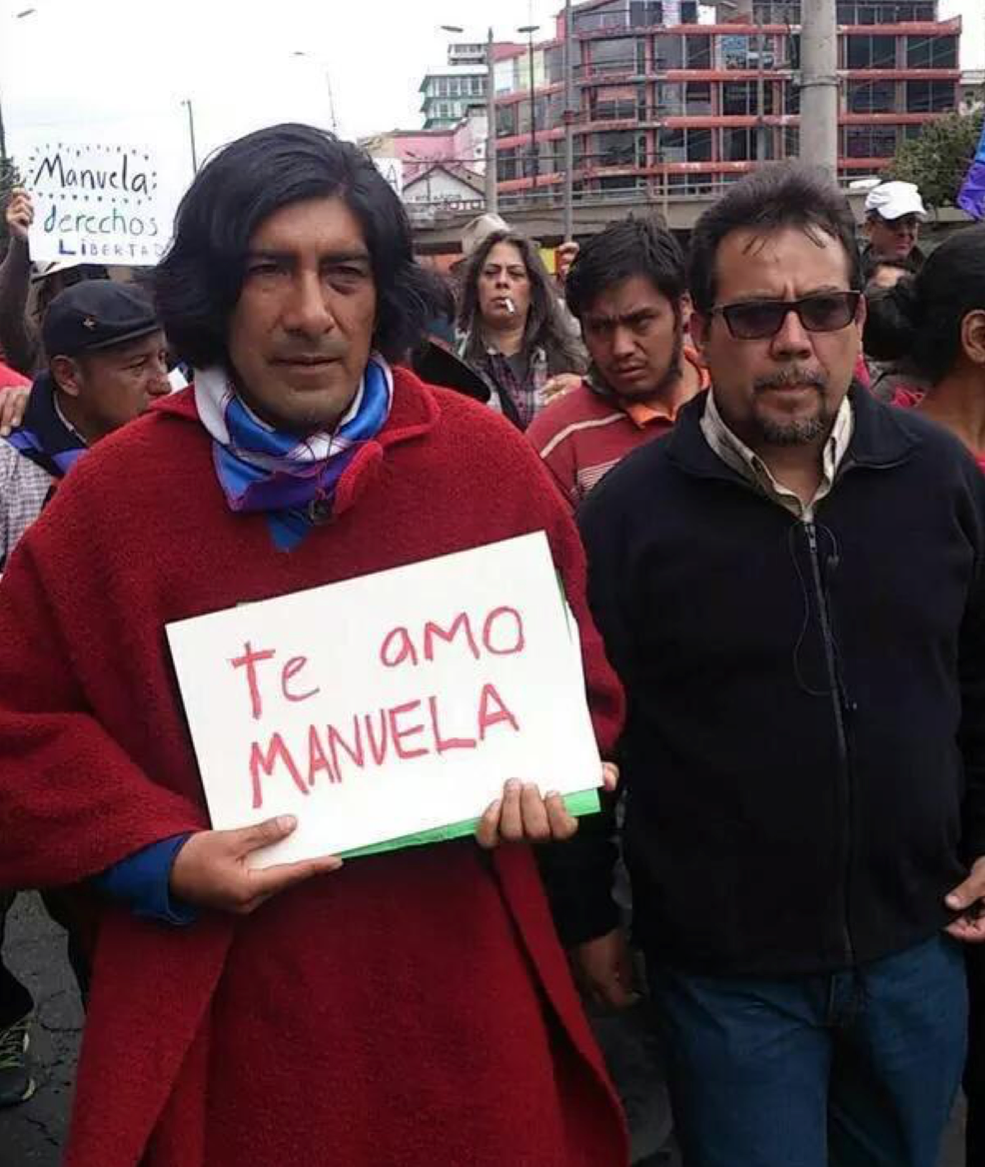 Local authorities, however, did not explain clearly why they had canceled Picq's visa, and widespread suspicion of political foul play was glaring. Such was Judge Pinza's dissatisfaction with the arrest and visa revocation, she stated publicly that there were no arguments for her deportation, and she opened an investigation into those who collaborated on what proved to be baseless charges.
This came as welcome news to the large crowd of supporters gathered inside and outside the deportation hearing. That included Picq's partner, indigenous leader Carlos Pérez Guartambel, who is president of the Kichwa Confederation of Ecuador (Ecuarunari).
The initial arrest of Picq by Ecuadorian police came on Thursday, August 13, during the massive protest convened by union workers and indigenous communities against the Correa regime in Quito. At the moment of her detention, at least a dozen officers surrounded, dragged, and beat the journalist, as shown in a video released by local newspaper El Comercio.
After her detention, Picq was taken to Eugenio Espejo Hospital and another medical center for treatment.
Then on Friday morning, she received a letter from the Ministry of Foreign Affairs informing her that her visa for cultural exchange, which was valid until August 28, had been canceled.
In brief statements she gave to the press, the Al Jazeera and Upsidedownworld reporter asserted that her visa had been canceled "arbitrarily," and that she had not received due process.
"I am being moved from one place to another every half hour. My visa was canceled today [Friday] morning, and now I am deemed to have an irregular status … but they have not accused me of anything."
"It's a visa that requires one not to participate in political activities. I am not involved in politics; I am not a political leader," Picq said. She asserted she had been kidnapped by Correa's government, and that she had not even been able to choose the hospital to treat her after she was beaten by state agents during the protest.
Moreover, she noted that if she were to be deported to Brazil, she would then organize resistance activities against the government of Correa from her native country: "I do not know if I will return soon, but will organize a more structural resistance to this government."
[adrotate group="8″]
No Letup for Demonstrations
Over the weekend, demonstrations in the capital of the Andean nation kept on rolling. "In the name of Manuela; everyone stand up," protesters chanted in Quito in solidarity with the journalist.
They gathered around the "Carrión Hotel," which had a considerable police presence. Carlos Pérez, Picq's defense attorney and partner, alongside other indigenous and political leaders, expressed their disapproval towards what had happened with her.
Those present were able to observe how Pérez had to negotiate with the police to be able to enter the building, so that Picq could sign the necessary documents for the constitutional protection, although the judge declined to accept them.
Meanwhile, Juan Pablo Albán, a human-rights lawyer and part of Picq's defense team, made known via social networks the irregularities that had occurred in her case.
According to Albán, several judges of the Judicial Unit of Flagrancy of Quito sought to stop Picq's allies from filing the legal guarantee in her favor. He noted that Judge Paulina Sarzosa Guerra ordered the police to prevent the passage of Picq's lawyers, but Albán managed to enter the building when security personnel let their guard down. Even then, though, Sarzosa declined to process the application and told Albán that her shift was over.
"I have practiced the legal profession for almost 16 years, and until today, I have not experienced anything as surreal as the failed process of filing a constitutional protective action on behalf of Manuela Picq, who is about to be unjustly deported from Ecuador," Albán wrote on Facebook.
¿Cómo era el slogan del @CJudicaturaEc?… ah cierto! "La (in)justicia es una práctica diaria" https://t.co/RFYhHmkSgi

— Juan Pablo Albán (@JuanPablo_Alban) August 17, 2015

"What was the slogan of the Judicial Council of Ecuador? … Oh right! "(In)justice is a daily practice"."
Two Versions, One Story
On Friday, August 14, the Interior Ministry released a statement entitled "Foreign Citizen with irregular residence in Ecuador, received support from the National Police."
It reports that during the #13A protests, an official noted that Picq had been injured, so she called agents to help the woman. "The agent came to help Manuela Picq, to provide first aid to her, and immediately requested for support for the citizen," the statement reads.
They also released a video in which the detainee says she was "very well treated by the police and health teams in charge."
However, local outlet El Comercio released an interview with Picq's testimony several hours before. Her story was completely different from the ministry's version.
"They told me they would deport me from the country. I know they will try to make the process as fast as possible, so that I remain in Ecuador for the shortest time possible … this is not a legal issue, but a political one. Now I just have to wait," Picq said.
"First, they beat Carlos [Pérez] and me very heavily in the street. I was hit with a club in the face; I lost the sight in my left eye for several hours; thankfully I'm fine. They hit me hard; I was treated like a criminal just for walking in the street … Apart from the whole process of criminalization and kidnapping, we were separated," the journalist stated.
The Chorus of Support Manuela Picq
Picq's case has received extensive national and international coverage — so much so that liberal columnist and advocate Gabriela Calderon quipped: "Thank you gentlemen, for creating a 'Camila Vallejo' against you," in reference to the prominent Chilean activist turned Communist Party representative.
Brazilian digital outlet BemParaná reported that Marcus Vinicius Furtado Coelho, president of the Order of Lawyers of Brazil, had contacted the Pichincha Bar Association and the Brazilian Embassy in Quito. According to Furtado, Picq "was arbitrarily imprisoned and subjected to a treatment that constitutes violations of human rights, and disrespects the fundamental rights of defense and access to her lawyers."
Furthermore, O Globo reported comments from Lena Lavinas, Picq's mother:
"The scenes of my daughter being beaten are the same like mine when I was hit during the dictatorship [in Brazil]. But the Ecuadorian government claims to be democratic and revolutionary. What kind of rule of law is that?"
Fergus Hodgson contributed to this article.