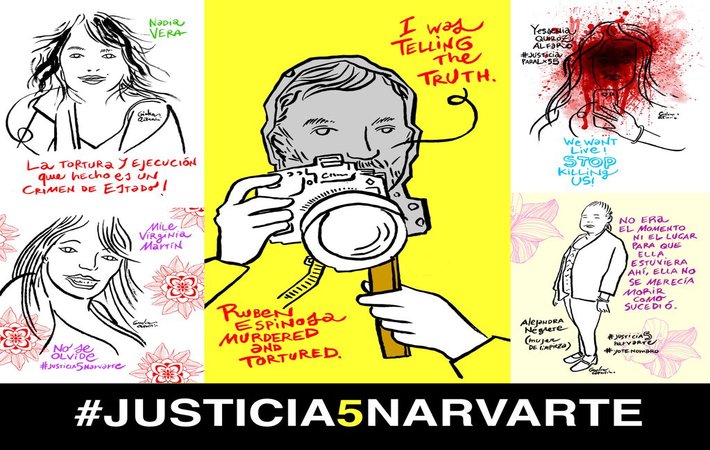 EspañolOn August 15, hundreds of artists, journalists, and intellectuals from all over the world published a letter on the PEN American Center's website to demand that Mexican President Enrique Peña Nieto get to the bottom of photojournalist Rubén Espinosa's murder.
Standing out among the more than 500 signatories are world-class artists, such as Mexican filmmakers Alfonso Cuarón and Guillermo del Toro; Canadian writer Margaret Atwood; Mexican journalists Alejandra Von Xanic Bertrab and Lydia Cacho; Arianna Huffington, cofounder of the Huffington Post; Mexican poet Homero Aridjis; and intellectuals Noam Chomsky, Denise Dresser, and Sergio Aguayo.
In response to Espinosa's murder on July 30 in the heart of Mexico City, the letter states that there now appears to be "no safe haven" for journalists in the country.
"An attempt on the life of a journalist is an attack on society's very right to be informed," the authors note.
According to free-speech NGO Article 19, 37 journalists have fled their home state of Veracruz since 2000 over threats from organized crime or local governments.
Dario Ramirez, CEO of Article 19 in Mexico and Central America, argues that the forced displacements suggest "that the right to exercise freedom of expression is not adequately guaranteed, and that human rights are not being duly protected."
Since 2000, 103 journalists have been killed in Mexico, and 25 others have disappeared, according to the Attorney General's Office. Veracruz and Chihuahua are the states with the largest number of murdered press workers (16 each).
[adrotate group="7″]
In 2015, there have been two reported cases so far, Espinosa's murder being the most recent. Espinosa was a contributor to Proceso magazine, Cuartoscuro, and AVC news agency. He fled Veracruz in June to seek refuge in the capital after being harassed and intimidated while working as a reporter.
The letter points out that since the Revolutionary Institutional Party's Javier Duarte was elected governor of Veracruz in 2010, the threats, mistreatment, and murders have risen in the state, with 14 homicides and three disappearances.
The National Commission on Human Rights (CNDH) estimates that 89 percent of the cases involving aggression against journalists go unsolved, primarily due to obstruction from authorities or judicial incompetence.
Of the 19 percent of investigations that go before a judge, only 10 percent end with a conviction, according to the CNDH.
In addition, the letter urges President Peña Nieto to take stronger action to curb violence, and investigate whether local officials were involved in the murder of Espinosa and other journalists.
The intellectuals also call on the government to review its procedures for protecting journalists, and to show a greater commitment to guaranteeing free speech in Mexico.
"Today, journalists in many parts of the world are under attack, and Mexican reporters in particular are in deadly peril," the letter concludes.