EspañolOn Friday, December 19, a group of deputies presented a bill to the Chilean Congress to criminalize the use of headphones in public spaces. The proposal seeks to reduce traffic accidents and promote a cultural change whereby young Chileans "learn to take care of themselves."
Deputies Loreto Carvajal and Daniel Farcas of the Party for Democracy (PPD) joined Jenny Álvarez of the Socialist Party (PS) to mitigate "the risk factors, considering the increased number of vehicles in the country and the high rate of pedestrians killed in traffic accidents."
Presentando proyecto ley ,como autora propongo sanciones quienes cruzan vía pública sea automotriz o férrea usando audífonos o auriculares.

— Loreto carvajal (@loretodiputada) December 18, 2014
Presenting this draft law, as its author I propose penalties for those who cross public roads, either carrying motor traffic or railways, using earphones or headphones.
Legislating to "Protect" Citizens
"Chile has the unfortunate statistic of being the country with the highest rate of pedestrian deaths, compared with other OECD members," the bill reads.
"In the last five years, 3,024 pedestrians unfortunately died in traffic accidents, and more than 42,000 were injured. Furthermore, traffic accidents in last decade generated the sad figure of 18,000 dead and more than 77,000 injured."
According to Farcas, Chileans are increasingly distracted by personal gadgets, which puts them at greater risk: "A cultural change is necessary … so that our young people learn to take care of themselves, and that protection means imposing restrictions, so they don't walk with headphones on the streets, running the risk of being hit and killed by cars."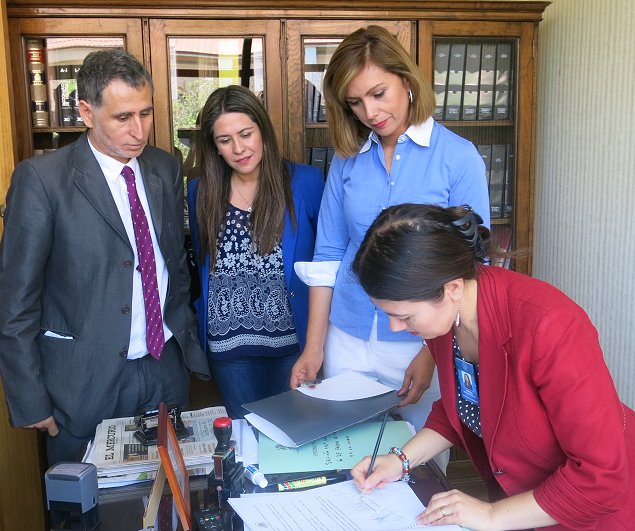 Farcas specifies that the fines would be around US$35 for pedestrians passing through authorized crossing-points wearing headphones, and $103 for those who do so while jaywalking.
Meanwhile, Jenny Álvarez argues that the nation didn't want to mourn any more deaths caused by the "distracting devices."
"That's why we are supporting this project, which will increase pedestrian responsibility, and reduce the high rates of people dying every day through lack of caution."
The bill also refers to motorists, stating that they are also likely to be "distracted" by the use of these devices when driving.
Nanny State Up for Debate
Reactions to the bill from the general public and opposition have been swift. Deputy Joaquín Godoy of the Amplitud party asserted that the bill is "completely ridiculous."
In an interview with local newspaper Publimetro, Godoy argues that "wearing headphones and listening to music, belongs to the sphere of private choice.… It makes no sense to legislate in this area … we must understand that people are free to make the choices they want in this."
Un primo se murió atropellado por andar con audífonos y no escuchar al tren. No se necesita una ley, urge la educación vial. @dfarcas

— La Macarena (@pobremacarena) December 19, 2014
My cousin was killed when he was crossing train tracks wearing headphones and didn't hear the train coming. We don't need a law; road safety education is urgent.
Felipe Munizaga, a professor of political thought and an analyst of social programs at the University of Chile, echoed Godoy's comments in an interview with the PanAm Post. Munizaga states that the bill "assumes that the state knows what's good for people better than they do themselves."
"It fits in with other attempts that sought to ban salt in restaurants, or to punish those who created memes mocking members of parliament. I know some cases of people who have died or been run over while using headphones when driving cars or bicycles, and maybe that's the intention of the legislators. But as we know, stupid, pointless laws abound in countries, and this is the case here."
"I am a cyclist myself, and I get angry with those who wear headphones while cycling, because of the accidents they might cause," he added. "But I think persuasion is more effective than coercion in creating behavioral change."
Munizaga believes that more effective than legislation would be civil associations and the media promoting responsible and cautious behavior while driving or walking across the street.
The draft bill as it stands would reform the national traffic law, and resembles initiatives undertaken in other countries, including the United States and Spain.