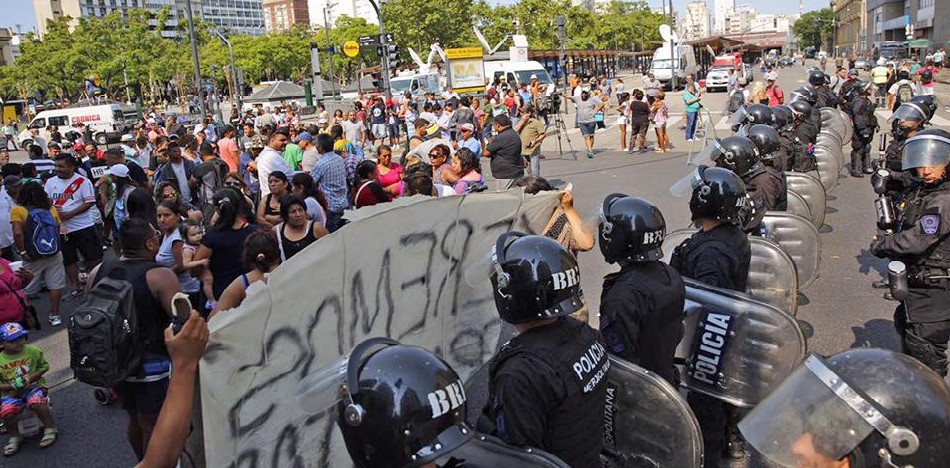 EspañolA dispute between street vendors in Buenos Aires and the city government of Buenos Aires came to an end this week with an agreement that caused outrage among taxpayers.
Informal workers had been cutting off an important avenue for two days to protest evictions, but after several hours of deliberation this Wednesday, they decided to accept an offer from Buenos Aires officials.
The agreement, which involves the Chamber of the Medium Enterprise (CAME), includes a 60-day paid training course for each informal vendor, with a subsidy of AR $11,700 (US $739.44) for two months.
The city is also offering various physical spaces for workers to market their products, one of which can reportedly hold 100 vendors.
Workers are required to take a census, register with the Ministry of Social Development and have an open savings account, through which CAME will pay them.
So far, there are about 400 informal workers who have accepted the deal, but officials are aiming to increase that number.
Many people took to social media to protest the agreement, reportedly because the burden of the agreement is placed on taxpayers.
Vuelvo a preguntar porque parece pregunta retórica… ¿La CAME va a capacitar a los manteros en emprendedorismo? ¿Libre empresa? ¿Mercado? pic.twitter.com/UfbLviR5ug

— Pablo Olivera Da Silva (@PabloOliveraDaS) January 12, 2017
2000 manteros
X
$11.700
=
$23.400.000
X 2 meses
$46.800.000
Tranqui, dice Larreta que los va a pagar una cámara empresaria. pic.twitter.com/TQphZYdn2c

— Winston (@Winston_Dunhill) January 12, 2017
El Gobierno vulnera el legítimo derecho de los manteros a quebrar la ley, por eso les pagarán $11700 por mes ?

*El doble que un jubilado* ? pic.twitter.com/oouhOkpXQT

— Dígame Licenciado (@licrondamon) January 12, 2017
Imagino que de los $11.700 que les van a pagar a los manteros por cursar 4 hs por día, les van a sacar para reponer lo que rompieron, no? pic.twitter.com/OvhgcZTL7j

— El Sir ? (@Sir_Mathius) January 11, 2017
Buenos Aires officials managed to evict more than two thousand people this week, who had set up to sell their products informally near the Once railway station.
City officials hoped to resolve the conflict by launching a project that would improve the area, which has suffered from deterioration over the years.
The project will include extending sidewalks, making certain streets more walkable, planting trees and relocating cables underground, as well as improving lighting.