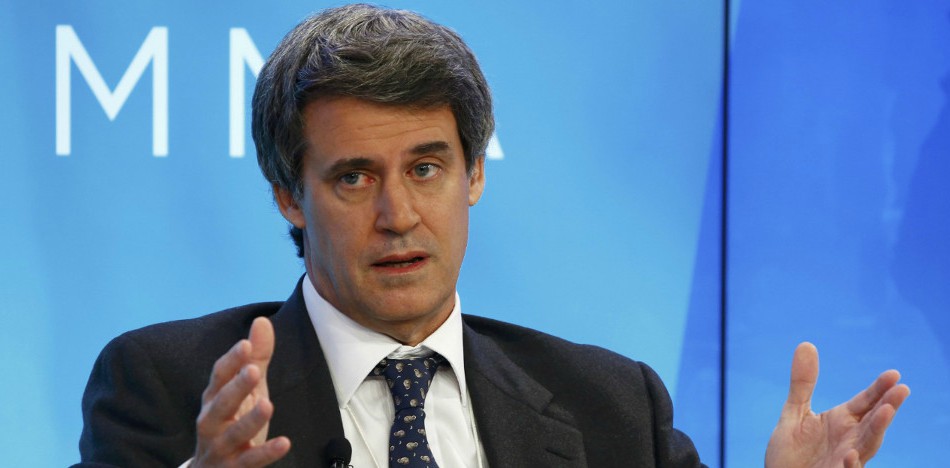 Following several days of rumors, on Monday the resignation of the Argentine Minister of Finance and Alfonso Prat Gay was confirmed, thus marking the second resignation in President Mauricio Macri's administration in less than a week, following the departure of the head of Aerolíneas Argentinas, Isela Costantini.
The announcement was made by Chief of Staff Marcos Peña, who confirmed that he asked for the resignation of Prat-Gay by order of the President. Prat Gay allegedly met with President Macri at his vacation home over the Christmas holidays in a private meeting.
"We want to greatly thank Alfonso for his work. He has managed a challenging ministry, in a challenging year for the economic transition and has achieved a return to a floating exchange rate, the normalization of international financial relations, the possibility of improving the situation with income taxes, and now also the fiscal austerity," said Peña.
According to the head of the Cabinet, the President decided to replace Prat Gay "because of differences over the direction of the economic team. We thought the best thing for this team at this stage was to make a change," added the chief of staff.
The ministry that Prat Gay leaves behind will be divided into two areas and will be headed by the economist Nicolas Dujovne (in Treasury) and Luis Caputo (in Finance). Caputo, who is a finance specialist, is currently part of the Prat Gay team and played an active role in negotiating with the so-called "vulture funds".
Prat Gay had been replaced by President Macri himself from his role in the negotiations over the income tax reform that eventually became law last Thursday. In his place Macri appointed the Deputy Chief of Cabinet, Mario Quintana, while also naming Rogelio Frigerio the Minister of the Interior, and Alberto Abad the head of the Federal Public Revenue Agency (AFIP).
Prat Gay was appointed Minister of Finance of the nation by President Mauricio Macri on December 10, 2015.
Prat Gay publicly noted that the Argentine economy did not meet the benchmarks which were promised by the government for the second half of this year. His disagreements with the president of the Central Bank (BCRA), Federico Sturzenegger, on the subject of inflation and interest rates were well-known.
Prat Gay was president of the Central Bank, from 2002 to 2004, during the presidencies of Eduardo Duhalde and Néstor Kirchner. He was national deputy for the City of Buenos Aires – between 2009 and 2013, elected by the Acuerdo Civico y Social party.