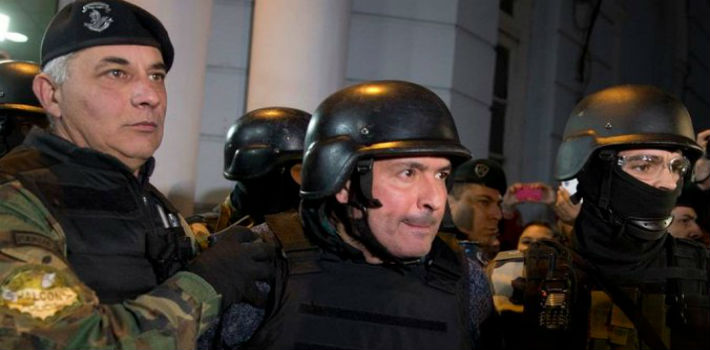 EspañolFormer Secretary of Public Works José Lopez testified this Thursday, August 11 in his unjust enrichment case.
Lopez was summoned Thursday to give explanations about his luxurious house in Dique Luján, Buenos Aires, and also to speak about the origin of US $9 million that he allegedly tried to hide in a women's monastery June 14.
When Lopez was asked about the origin of the money he reportedly told Judge Daniel Refecas that it was "money that came from politics."
Lopez told the judge that before the monastery incident, he was "paranoid and disoriented," according to Infobae, and wanted to attempt suicide with a pistol he ultimately couldn't find in his home.
Lopez reportedly tried to distance himself from the separate case involving the nuns who helped him hide the money in the monastery, as well as his wife Maria Amalia Diaz, who is also charged in the case.
Two nuns have already been declared as witnesses, and one was held for questioning for having helped put money into bags at the monastery. A video broadcast on all local TV stations showed the nun Celia Inés Aparicio moving money bags with Lopez.
Though the nuns said they were unaware of the contents of the bags, they did admit that they were expecting Lopez early on June 14 at the monastery at the request of the nun who coordinates activities.
According to the testimony of the nuns and his wife, Lopez had claimed he was coming to the convent for a "spiritual retreat."
Federal Prosecutor Federico Delgado called for a medical board Tuesday, August 9, to assess the health status of Alba Diaz de España Martinez, 95, mother superior of the convent. Delgado, who accused the woman of covering for Lopez, said he wanted a "comprehensive analysis" of her health to determine whether she can face criminal proceedings or not. Medical reports show she may not be able to.
The authorities revealed Martinez and Lopez's wife spoke on several occasions before the former official came to the convent. But in his statement, Lopez also said his wife was unaware of the money.
Lopez is currently undergoing medical treatment for his emotional situation and is visited daily by psychiatrists and psychologists.