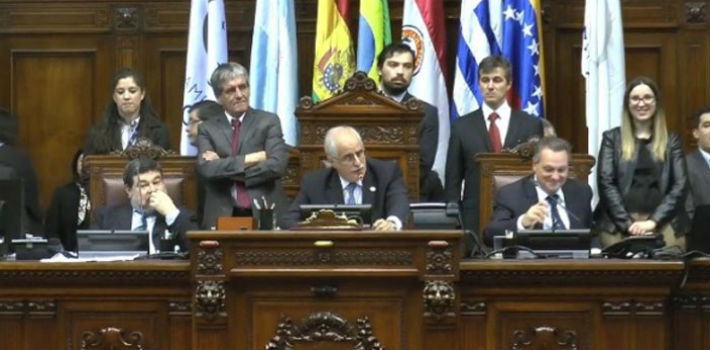 The Mercosur parliament — made up of representatives from Argentina, Brazil, Paraguay, Uruguay and Venezuela — has decided not to expel the Argentinian senator José López. The special majority of 92 votes necessary wasn't reached during the session taken in Montevideo, Uruguay.
López was found trying to hide in a female monastery in Buenos Aires with US $9 million, as well as an unreported amount of euros, yens, watches and an assault weapon.
The kirchnerist block legislators for the Front for Victory (FPV) asked to expel López from the Parliament, but Deputies from Brazil, Uruguay and Paraguay dissented, instead requesting the case be evaluated under "due process" that would allow López to defend himself. López's situation was passed on to a commission to be studied.
During the Tuesday session, Parlasur criticized the "embarrassing" actions of the Argentinian Parliament. Parlasur President Jorge Taiana of Argentina requested López's expulsion.
"José López's conduct bars him from being part of this Parliament," Taiana said. "Institutionally, we have to give a clear and transparent answer regarding the absolute rejection of this institution keeping as members those who have been found in fraganti in such acts."
Argentinian Deputy Marian Zuvic claimed Taiana assumed a cynical position by trying to purge a "rotten apple from his house" when they discovered what López did.
Zuvic also accused the FPV of defending the deputy and former Minister of Planning Julio De Vido of maintaining his indemnity to avoid investigations into his link with López.
Taina came down from the presidential pulpit to answer Zuvic:
"I have several decades of political office, and I was never accused of any crimes," Taiana said. He added "not only have they been denounced in the FPV, but there are those who possess undeclared accounts abroad," — in clear reference to the offshore accounts of President Macri in the Bahamas and Panamá.
On his side, Uruguayan legislator Pablo Iturralde asked for "a process" of expulsion be initiated so he can give his own "statements and defense."
According to Infobae, another deputy asked López to be provisionally suspended until the commission's ruling and he argued that "this will cover the Parlasur defense" and that "it also covers the correct procedure of legitimate defense in his trial."
From the delegation of Paraguay, Miguel Sosa Cabañas called to "wait on the report of the commission" and to "respect the right to a legitimate defense."
"We want to listen to him, what's the rush to expel him without due process?" the Paraguayan deputy said.
José López was expelled this Tuesday for opposing the block in Parlasur composed by FPV and the Justicialist Party.
"The fight against corruption isn't a monopoly of any political force, and as such, corruption must not be tolerated under any circumstance," they said in a press release.
This Tuesday Parlasur took two votes, and neither reached the necessary votes for expulsion at two-thirds of the Chamber. The initiative of the expulsion reached only 78 of the 92 necessary votes.
The former kirchnerist officer was elected deputy in Parlasur in the October 25 elections.
The National Electoral Chamber of Argentina established last year that the deputies elected for Parlasur wouldn't have special indemnities like the National Constitution gives their national peers. According to the Chamber's decision, they only maintain indemnities for opinions that come from their offices.
José López refused to declare in the investigation over illicit possession of firearms, due to him having a "reactive stress" medical issue, according to his lawyer Fernanda Herrera.
So far he has remained in the psychiatric wing for inmates.
Source: Indobae.