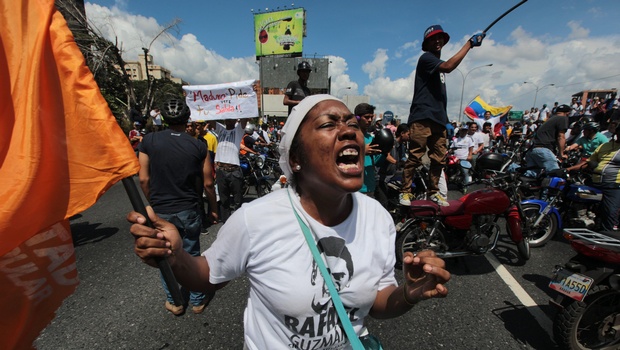 EspañolVenezuela, despite lacking sufficient food and medicine for its citizens, will host the Summit of Non-Aligned Countries this week.
President Nicolás Maduro is besieged nationally by the ghost of a recall referendum that should have pulled him out of office long ago. It's not unlike the Democratic Charter the ORganization of American States tried to do earlier this year, without success.
Estimates for the cost of the meeting are reportedly around US$150 million to $200 million.
The summit is going to be held on Margarita Island, which, despite its name, is far from a tourist paradise. It's currently experiencing failures of public services, especially fresh water. The 30-year-old pipeline has sprung serious leaks, and has not been prepared.
Perhaps that money could have repaired the pipeline and re-supplied the island's 300,000 inhabitants. Of course, water won't be a problem for the representatives of the countries attending the meeting. The government has ensured 30 million liters of water to hotels housing visitors.
Venezuela is subject to draconian currency control changes, so no one can buy or sell dollars openly. However, an exception will be made in Margarita. It will be a good experience for dignitaries to see firsthand how a US $10 bill becomes a pile of one hundred VEF $100, the most valuable in the bankrupted Venezuelan economy.
Margarita, in the past a flourishing, free port is now a scene of closed shops and hardship/
Non-Aligned Summit: a select group
Though the Libyan Moammar Gaddaffi (who in 2009 set up his tent outside the same hotel where the summit takes place today) is no longer attending the summit, there will be no shortage of tyrants.
There will reportedly be 52 countries, all with non-democratic governments, at the summit. The representative of North Korea is the star, as it is a country that just detonated its fifth atomic bomb and recently opened diplomatic relations with Venezuela.
Cuba, the oldest Latin American member of the Non-Aligned Countries, will also be there. It enrolled in 1961 and its tenure in the group spans 55 years.
Maduro can take lessons from, for example, Zimbabwe, Somalia, and Eritrea, all dictatorships thathave endured for at least two decades. Or Belarus, where Alexander Lukashenko has become a pariah. His nation, which he has governed since 1994, is an island out of which nothing comes in and nothing out. Or the Democratic Republic of Congo, deemed one of the most miserable countries on Earth.
Chavez himself will be present, though only in spirt. The government has erected a statue outside the area where the summit will be held. With incidents last week in Villa Rosa, however, Maduro may have a hard time.
The opposition expects new demonstrations next week. Margarita has never been a territory in which the "Chavismo" has won in peace.
And if he had a little more knowledge of history, Maduro would know such monuments often become toppled symbols at the end of corrupt administrations.