EspañolCanada is the western hemisphere's most peaceful country, according to the 2015 Global Peace Index, released on Wednesday, June 17, by the Institute for Peace and Economics.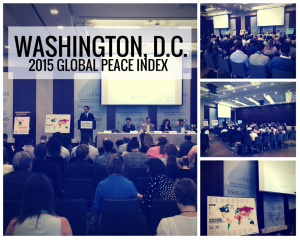 The institute describes itself as the "world's leading think tank dedicated to developing metrics to analyze peace and to quantify its economic benefits." Their report uses various statistical data to determine a country's level of peacefulness, including the status of refugees, armed conflicts, crime, and militarization.
According to the index, Canada is followed in the ranking by Chile as the most peaceful country in the Americas. Colombia is ranked as the least peaceful nation, while Honduras has improved over the previous year, despite high levels of gang violence.
South America in general fell below the global average this year due to the deterioration of peace in Uruguay, Venezuela, and Brazil. Uruguay, despite an increase in the proportion of security officers and policemen, remains the second most peaceful country in South America, followed by Argentina, Ecuador, and Paraguay.
On the other hand, Colombia and Venezuela earned the region's worst ratings. Colombia is at the bottom of the list due to the current status of refugees and internally displaced persons as a result of the 50-year-old conflict with the FARC guerrilla.
The report also notes that "Venezuela continues its military build-up (mostly with Russian-supplied weapons)" which adds to an increased risk of violent demonstrations, violent crime, and political instability.
Costa Rica has consolidated its position as Central America's most peaceful country. The report notes that Honduras "saw improvements in the intensity of internal conflicts and the proportion of security officers and policemen."
El Salvador and Nicaragua showed the most significant setbacks; the former for its decrease in funding of UN peacekeeping forces and for political persecution, while the latter for "violent crime and political terror."
Canada remains at the top of the list in the Americas, and seventh worldwide out of 162 countries. South America's most peaceful country, Chile, ranks 29th, and Central America's leader, Costa Rica, 64th. The United States only appears on the second half of the index in the 94th position globally.