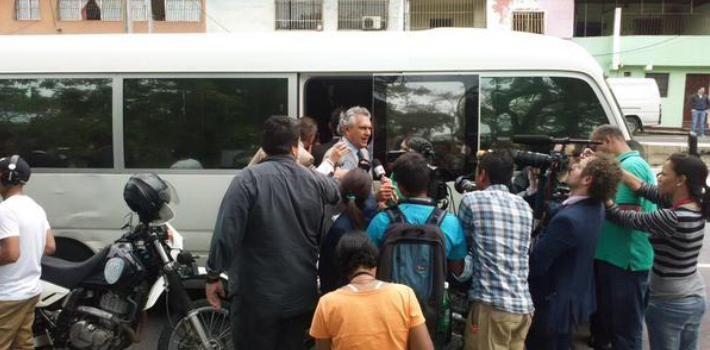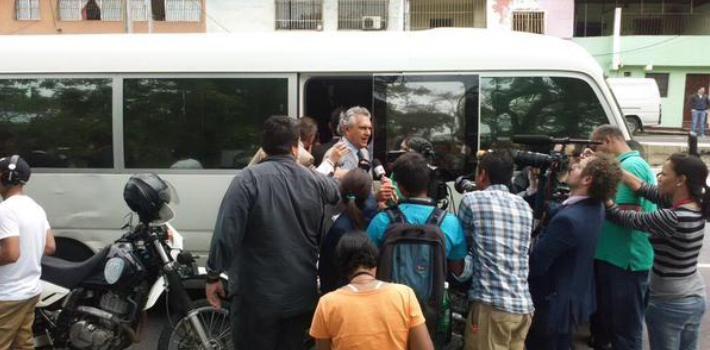 EspañolOn Thursday, June 18, Venezuelan government supporters managed to foil the plans of a group of Brazilian senators, led by former presidential candidate Aécio Neves, to visit jailed opposition leader Leopoldo López.
López, who 26 days ago went on hunger strike, has been jailed at the Ramo Verde military prison since February 2014.
After leaving the Maiquetía International Airport on Thursday morning on their way to Caracas, the Brazilian delegation had their bus stopped and surrounded by at least 50 government supporters. The Chavistas blocked the road and attacked the vehicle with stones and sticks, while hurling insults at the foreign visitors, Neves told local Unión Radio.
"Get out!" "Chávez is not dead, he has multiplied!" the Chavistas yelled, he says. The Brazilians chose to return to the airport where they attempted to speak with Venezuelan government officials in order to proceed with their plan to visit political prisoners in the country.
The visitors had also intended to meet with representatives of the Democratic Unity Roundtable (MUD), as well as with Henrique Capriles Radonski, governor of Miranda and former opposition presidential candidate in 2012 and 2013.
"At the end of the day, everything is on hold. We have been waiting for four hours here, outside the airport," Neves said. He added that the President of Brazil's Senate, Renan Calheiros, has demanded that President Dilma Rousseff issue a formal complaint against the Venezuelan government over the delegation's treatment.
When asked by Venezuelan journalist Vanessa Davies about a possible meeting between the Brazilian delegation and Venezuelan authorities, Senator Neves said the Nicolás Maduro administration "showed no interest in meeting."
Davies told Neves that some Venezuelans interpret the Brazilian's visit as an attempt to intervene in Venezuela's internal affairs. "When it comes to democracy, human rights, and freedoms, there are no borders," the senator countered.
Unable to proceed with their planned activities, the congressmen returned to Brazil on Thursday evening, and the Rousseff administration released a statement condemning their treatment while in Venezuela.
The Brazilian Foreign Ministry said they plan to seek an explanation from their Venezuelan counterparts and made clear that "hostile acts against Brazilian congressmen are unacceptable."
Sources: El Nacional, O Globo, Efecto Cocuyo.