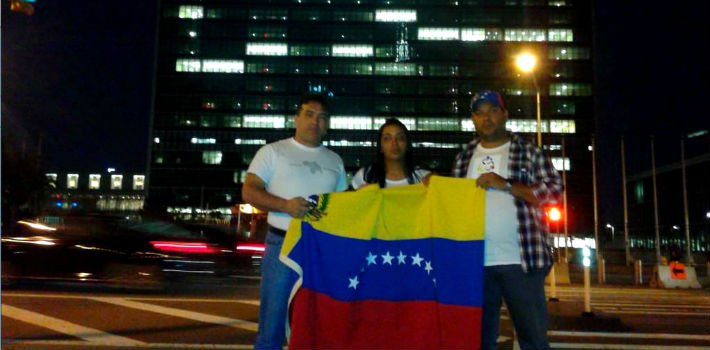 EspañolA retired Venezuelan general, wanted by Caracas for his involvement in 2014's anti-government protests, has joined a hunger strike led by jailed opposition leaders Leopoldo López and Daniel Ceballos from the UN headquarters in New York.
Antonio Rivero announced his protest on Thursday, aiming to show solidarity with the political prisoners, and demand that the UN take strong measures to defend human rights in Venezuela.
Rivero himself faces similar accusations to those of Ceballos and López, and flew to the United States after an arrest warrant was issued in 2014. He already spent time behind bars in 2013 for allegedly "inciting hatred" and "conspiracy" following that year's closely-contested presidential elections.
2.Me uno a los compañeros d lucha @JosmirGutierrez y @e_bavaresco q ayer la asumen acá y en Vzla q inició @daniel_ceballos y @leopoldolopez.

— Antonio J Rivero G (@antonioriverog) June 11, 2015

"I'm joining my fellow fighters @JosmirGutierrez and @e_bavaresco, who yesterday joined here the protest started by @daniel_ceballos and @leopoldolopez in Venezuela."
While a UN high-ranking official received Rivero and two fellow activists on Wednesday, the former general told press he won't lift his protest until the multilateral body issues an official response.
Rivero's fast brings the number of hunger strikers to 75, including five jailed opposition politicians, five elected officials, and 63 young people.
Ceballos, the former mayor of the industrial city of San Cristóbal, announced his hunger strike on May 23, followed by López two days later. Jailed politicians Raúl Emilio Baduel and Alexander Tirado have each been forgoing food for the last 16 days.
The protesters are demanding that the Venezuelan government set a date for this year's legislative elections, and invite international monitors to observe them. They also call on the government to release all jailed opposition activists, and to end the persecution of dissidents.
On Wednesday, Juan Carlos Gutiérrez, lawyer to Ceballos and López, told the press that they are open to ending the protest if the government releases all other political prisoners.
"If the other political prisoners are released, but not them, they may put an end to the hunger strike," he said.
Source: NTN24.