EspañolNew evidence has emerged in the investigation into the mysterious death of Argentinean prosecutor Alberto Nisman, raising questions as to whether it was the result of suicide or murder.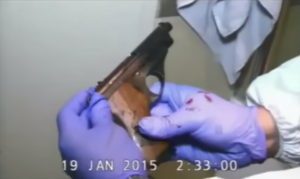 Forensic experts in Argentina say someone accessed Nisman's personal laptop, either locally or remotely, at 8:07 p.m. on January 18, 10 hours after his death but before his mother discovered his body.
According to Clarín, computer experts have determined Nisman's computer was accessed 60 times, but have yet to identify the source. A full forensic report is expected sometime in July.
Nisman's ex-wife, Sandra Arroyo Salgado, believes the date and time stamp on the prosecutor's computer could have been altered, but experts have yet to find evidence to support her theory.
For now, all investigators do know is that the only other computer entries logged that same Sunday occurred at 8:00 a.m., when someone accessed several local news websites and searched Google for the world "psicodelia" (psychedelia).
Nisman died of a gunshot to the head just days after accusing President Cristina Kirchner of covering up Iran's alleged role in the 1994 bombing of the AMIA Jewish center in Buenos Aires, and hours before we was set to testify in Congress.
Last April, however, prosecutor Javier de Luca, a member of the pro-government group of prosecutors Justicia Legítima, dismissed the allegations against Kirchner citing a lack of evidence.
On Sunday, the Argentinean television news program Periodismo para Todos (Journalism for Everyone) aired video filmed by federal police in Nisman's apartment just hours after his death. The video shows investigators committing multiple serious breaches of forensic investigation procedure, including handling evidence without latex gloves and using toilet paper to wipe down the gun found next to Nisman.