The Colombian army killed 26 Revolutionary Armed Forces of Colombia (FARC) fighters on Thursday in a bombing raid in Cauca, southwestern Colombia. The Ministry of Defense confirmed that the attack on the FARC camp in the municipality of Guapí also resulted in the capture of two rebels.
A Ministry of Defense official told press: "It is the first major blow against FARC since President Santos ordered the resumption of air strikes against the guerrilla on April 15."
An initial death toll of 18 was revised upwards in a statement by Santos on Friday morning.
The objective of the mission was to apprehend guerrilla officer alias "Javier," the second-in-command of FARC's 29th front. The raid also resulted in the seizure of rebel arms and equipment.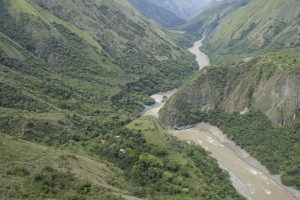 Following the bombing of the FARC camp, there were violent confrontations between the army and rebel units in the lawless Pacific coast region, which is host to significant drug and arms-trafficking activity.
Bombing raids were suspended for a month from March to April while the government and the guerrilla were engaged in the latest cycle of peace talks in Havana, which began in November 2012. President Juan Manuel Santos restarted the bombing program on April 15, after 11 military officers were killed in a guerrilla attack while off duty at a sporting compound in the same area of Cauca.
Santos has repeatedly refused to discuss a permanent bilateral ceasefire until a final peace deal is reached.
The negotiations being held in Cuba are part of a plan to put an end to the 50-year conflict which has claimed over 220,000 lives. Talks have so far reached agreements on combating drug trafficking, disarmament, and political participation, but the issue of what punishments if any will be served by former fighters is proving intractable.
FARC, founded in 1964, is estimated to have a current strength of under 8,000 fighters.