EspañolAccording to police reports, on Thursday night two armed robbers murdered Conán Quintana, a student leader at the the Liberator Experimental Pedagogical University (UPEL), and his friend in downtown Caracas.
Quintana, the events secretary of Venezuela's Federation of Student Councils (FCE), was in a SUV with Luis Ángel Álvarez when two men attempted to rob them.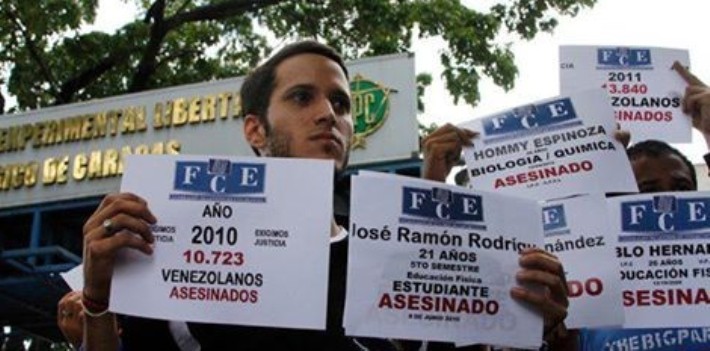 The young men reportedly attempted to escape, but ended up crashing into a building. The robbers then approached the vehicle and shot the pair multiple times.
Álvarez died instantly, while Quintana was moved to a hospital, where he died from his injuries soon after.
They were near Álvarez's home in the neighborhood of La Candelaria, only a few blocks away from the Ministry of the Interior and Justice. The killing of Quintana and Álvarez represents the second and third murder in under a week in the same district of the Venezuelan capital.
Jesús "Chuo" Torrealba, executive secretary of the Democratic Unity Roundtable (MUD), was one of the first people to respond to the murder of the student leader, writing: "After so many protests against insecurity, demanding respect for life, today crime has killed him."
Quintana had regularly organized protests with students and neighbors against insecurity in the northern area of Caracas in which he lived. Former presidential candidate Henrique Capriles also registered his anger at rampant criminality in Venezuela.
Opposition leader Maria Corina Machado meanwhile reported the news "with deep pain," describing Quintana as "an extraordinary young man."
A fellow student activist at the Central University of Venezuela, Sairam Rivas, invited people to join a protest on Friday morning.
On Friday morning, activists, students, and concerned citizens met in front of the ministry, but their access to the building was blocked by a large number of riot police.
Venezuela is one of the most unsafe countries in the world, with a rate of 70 homicides for every 100,000 habitants. The country witnessed 25,000 murders last year. According to Mexico's Citizen Council for Public Safety and Penal Justice, Caracas has the second-highest murder rate in the world, outstripped only by San Pedro Sula, Honduras.
Sources: El Universal, Informe21.