EspañolOn Tuesday, March 24, a diplomatic mission of four Venezuelan legislators branded former Spanish Prime Minister Felipe González an "interventionist," and accused him of fomenting a coup d'etat, after he announced that he would join the legal defense of jailed opposition leader Leopoldo López and Caracas Mayor Antonio Ledezma.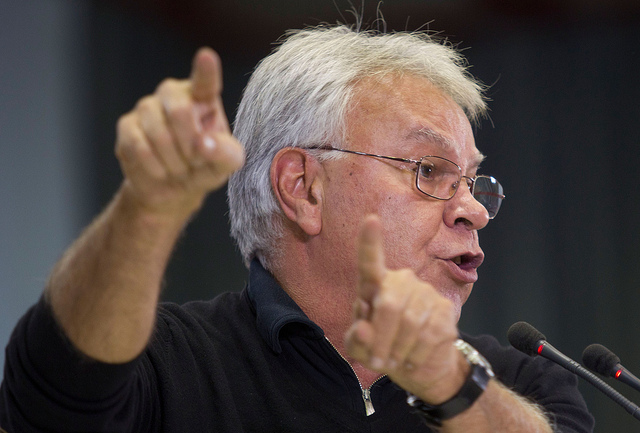 Congressman Darío Vivas claimed that González, "along with other sectors of Spanish politics, are claiming impunity" for two of the most prominent opposition leaders jailed by the government of President Nicolás Maduro.
The Venezuelan mission, on a stopover in Madrid en route to trade talks in Vietnam, also protested against a resolution issued by the Spanish Congress calling for the release of López and Ledezma.
"We are amazed that the parliament should state its position on Venezuela and not about the crisis you're facing here … where there are 750,000 homeless families and youth unemployment rates over 53 percent," they said.
Venezuelan legislator Gladys Requena meanwhile claimed González had agreed to represent López and Ledezma because of his purported friendship with former Venezuelan president Carlos Andrés Perez, whom she labelled a "terrorist."
She went on to accuse González's 1982-1996 administration of "state terrorism," citing him as Ledezma's "political godfather."
The former Spanish leader, who served four consecutive terms in office at the head of the Spanish Socialist Workers' Party (PSOE), dismissed the comments, saying he was "incapable" of lowering himself "to the level" of the Venezuelan officials.
On Sunday, March, 24, González announced that he is to join the legal defense team of both López and Ledezma after their families asked him to help secure their release.
The former Spanish premier's decision has met with support from the Venezuelan opposition and various leaders across Latin America. González said that former president of Uruguay Julio María Sanguinetti, former Chilean President Ricardo Lagos, and former Brazilian President Fernando Hernique Cardoso have contacted him to create an international working group for the release of the prisoners.
López, a senior figure in Venezuela's opposition Popular Will (VP) party, was arrested in February 2014 for allegedly inciting violence during nationwide anti-government protests. Antonio Ledezma, the mayor of the Venezuelan capital, was seized in a violent police raid a month ago on charges of conspiracy.
"Gónzalez has openly started supporting the coup against Venezuela, a coup against me," President Maduro claimed on Tuesday.
Felipe González traveled to Chile in 1977 under the dictatorship of Augusto Pinochet to visit family members of missing dissidents and political prisoners.
Sources: Analítica, Globovisión