EspañolA high-profile Paraguayan senator has called for marijuana decriminalization in the landlocked South American country, in a bid to "put an end to the drug-traffickers' business."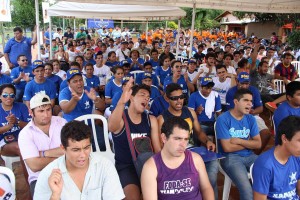 Senator Blas Llano, chair of the National Congress, made the proposal in the southern Paraguayan town of San Juan Bautista during a camp for the youth wing of the Authentic Radical Liberal Party, one of the country's principal opposition parties.
As long as the narcotic remains illegal, "marijuana trafficking will continue to be a discussion topic," he told camp attendees over the weekend.
This is not the first time that a Paraguayan congressmen has proposed drug-law reform. However, Llano is the most senior political figure yet in the country to back legalization.
In December 2014, a liberal legislator introduced a bill that would decriminalize marijuana for personal use, as well as growth of up to 30 small plants per year.
"Current legislation establishes two ways: first, through the rehabilitation of the addict, and then punishment. However, the proposal we introduce today includes the recovery of the addict," Congressman Víctor Ríos said in December.
Paraguay is South America's largest producer of marijuana — and the second biggest in Latin America after Mexico.
The profits of narco-trafficking have contributed to highly corrupt institutions. In February, Paraguay's National Anti-Drug Secretariat (SENAD) seized 352 kilos of marijuana and arrested two persons, including Augusto Isaias Bogado Lopez, an army captain involved in a drug-trafficking ring.
On Friday, February 27, Paraguayan authorities discovered almost a ton of cannabis stored in a home located in the town of Capitán Bado, near the Brazilian border. Police arrested two people, while Brazilian police simultaneously apprehended a 51-year-old man allegedly involved in drug trafficking.
According to SENAD, every year Paraguay produces some 30,000 tons of marijuana, principally in the towns bordering Brazil, the principal destination of the Paraguayan crop.
Source: ABC.