EspañolOn Monday, February 9, the secretary general of Amnesty International, Salil Shetty, called for the release of Venezuelan opposition leader Leopoldo López, as well as other political prisoners of the Maduro government. The announcement comes just days before the one-year anniversary of the Popular Will party leader's imprisonment.
Shetty made ​​the appeal to the Venezuelan government after meeting in London with Lilian Tintori and Antonieta Mendoza López, his wife and mother, respectively. They also discussed the cases of former mayor of San Cristobal, Daniel Ceballos, lawyer Marcelo Crovato, and student Rosmit Mantilla.
In November 2014, Amnesty similarly requested that the Venezuelan government comply with a ruling from the UN Working Group on Arbitrary Detention, which called for Leopoldo López's immediate release.
Tintori has recently traveled the world gaining international support for her husband's case, which his defense argues has been carried out without regard for due process and with no hard evidence against him.
Trial Goes On
On Monday, López's defense attorney, Juan Carlos Gutiérrez, denounced the judge's ban on international observers during the trial issued on Friday, February 6.
"This is a judgment that should be public and it is not; there are impediments to press access, people playing politics, and now international observers and Leopoldo's father, who had been able to enter early in the process, are not allowed…. The only thing this shows is that openness to the public, which is an essential element of any trial, is not being met. "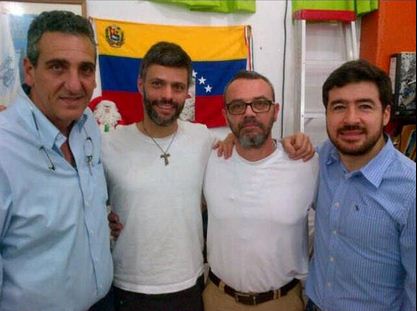 López's council said the defense will insist the judgment be ruled invalid based on violations of due process throughout the trial. "This is an open trial and supposed to be public, [but] it is now completely void.… The judge must ensure that the trial is entirely public, but she cannot control the Bolivarian National Guard (GNB), who are always outside the Palace [of Justice] restricting access," he emphasized.
Gutiérrez denounced the testimony of 13 officers from the Corps of Scientific, Penal, and Criminal Investigations (CICPC) and the GNB, who according to the defense, spoke to facts that were unrelated to the charges brought against López.