Español An Argentinean federal judge investigating a high-profile corruption case involving President Cristina Kirchner has been the target of a death threat, according to report from La Voz citing government sources.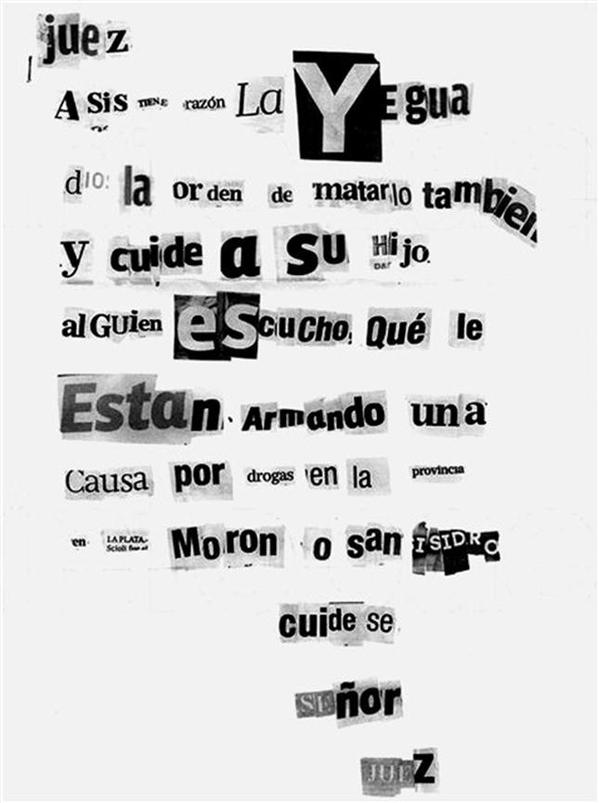 On Thursday, January 29, federal judge Claudio Bonadio received a letter warning him President Kirchner had ordered his death, and suggested the government may soon go after his son on drug charges. Bonadio filed a complaint the following day, but news of the threat was not made publicly available until Wednesday, February 4.
"[Writer and journalist Jorge] Asís was right," begins the note, written in newspaper clippings. "The mare [a reference to President Kirchner] also gave the order for you to be killed. Take care of your son. Someone heard they are building a drug case against him in the province [Buenos Aires], in La Plata, Morón, or San Isidro. Take care Mr. Judge."
The letter, delivered to Bonadio's personal secretary at his courthouse office, made reference to renowned writer and journalist Jorge Asís, who was among the first to suggest the Argentinean government may have been behind the death of prosecutor Alberto Nisman.
Bonadio has been investigating an alleged money-laundering scheme involving a firm owned by President Kirchner and businessman Lazaro Báez, who has been awarded several lucrative government contracts in Argentina since the Kirchners rose to power in 2003.
According to the investigations, Báez rented almost 1,000 rooms per month in a hotel owned by the president during 2010 and 2011. He had paid approximately AR$10 million (US$2.5 million at that time) to rent 935 rooms per month over two years, regardless if the rooms were used or not. The judge suspects this activity could have been used to launder money gained through illegal transactions.
This is not the first time Bonadio has been at the center of controversy. In November 2014, prominent government-supporter and piquetero leader Luis D'elía responded to Bonadio's investigations by suggesting the judge's head should "symbolically" be placed on a pike in front of the federal courthouse.
In December, the government agency charged with overseeing judges fined Bonadio 30 percent of his salary for delaying a decision in two unrelated cases.