EspañolIn defiance of a UN order to release Venezuelan opposition leader Daniel Ceballos, a judge on Thursday, January 15, rejected his petition to be released from Ramo Verde military prison. Ceballos has been jailed since March 19, 2014, and will now take his case to the Venezuelan Court of Appeals.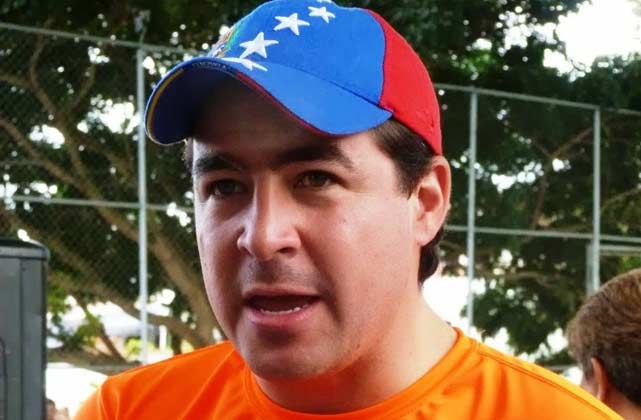 Ceballos's lawyer, Ana Leonor Costa, says the court has been closed for three months in an attempt to delay a ruling on the UN's request, calling it a "violation of due process."
"The judge in this case issued a decision that ignores the UN mandate. She does not take into account the Constitution, ignores human rights and the rights of Daniel Ceballos, so she denied the petition," she said.
Costa demonstrated surprise at the sudden resumption of the trial: "Suddenly, from one moment to another, the judge not only opens her court, but she also orders an urgent transfer of Daniel Ceballos and schedules a new hearing."
Lo trasladaron para notificarle la decisión de negarle la libertad que pide la #ONU y dar continuidad al juicio donde lo acusan por rebelión

— Patricia Gutiérrez (@PatrideCeballos) January 16, 2015
He [Ceballos] was taken to the court to inform him of the decision rejecting the UN request and continue the trial for sedition.
"I must note that Daniel Ceballos is being put on trial without a single shred of evidence, only statements from witnesses that will begin to testify on Thursday next week," said Costa.
On July 9, 2014, the former mayor of San Cristóbal was charged with sedition and conspiracy following anti-government protests throughout the country in February that left 43 dead and hundreds more wounded and detained.
Former South-American Presidents to Visit Venezuela
Meanwhile, Caracas is set to host a forum on January 26 organized by the Venezuelan opposition. Among the expected attendees are Andrés Pastrana, Felipe Calderon, and Sebastián Piñera, former heads of state of Colombia, Mexico, and Chile, respectively, according to former deputy María Corina Machado.
"The three presidents will visit Venezuela with a very busy schedule for several days. They will be in touch with various sectors of society," said Machado.
According to Machado, the former presidents will meet "with journalists and media outlets that have been the target of censorship" and "all of the democratic political forces" of the Venezuelan opposition.
Source: Noticia al Día.