EspañolOn Sunday, a group of Mexican federal police officers allegedly attacked students and parents from the Raúl Isidro Burgos Rural Teachers College of Ayotzinapa as they organized a concert in solidarity with the missing students. The confrontation resulted in at least 21 injured, including eight officers, as well as damage to vehicles and surrounding government buildings.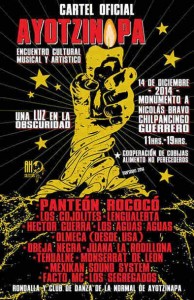 Organizers allege the police, "smelling of alcohol," arrived at the site of the planned "Light in Obscurity" concert at 4 a.m. local time and tried to prevent the students from setting up barriers near a hotel where the officers were staying. Students say the police then began throwing objects and pointing their weapons at them.
The police, however, say the confrontation began after protesters attempted to displace them from their hotel.
At 6 a.m. local time, more federal police arrived to the scene and launched tear gas at the students. Masked and hooded protesters retaliated by setting fire to vehicles and state security headquarters, as the confrontation intensified.
Amid the clash, a truck ignored road closure signs and ran over three police officers and a civilian. The confrontation lasted over 3 hours.
https://www.youtube.com/watch?v=8cOvMSK5Ce0
Federal police agents detained two teachers, who were then released two hours later, barefoot and without their belongings.
On Sunday afternoon, teachers from the local union moved to a police training facility in Chilpancingo to continue their protest, causing further damage to buildings and police cars.
This latest clash between protesters and Mexican police comes almost three months after the forced disappearance of the Ayotzinapa students as they returned from a trip to Iguala, Guerrero. So far, one of the missing has been positively identified and confirmed dead.
Sources: Infobae, Milenio, El Universal, VICE.