EspañolThe Christina Kirchner administration has its sights set on opposition members of Congress who release a monthly alternative inflationary index called Index Price Consumer Congress (IPC Congress). According to Infobae, the Ministry of Economy is seeking a court order to ban the lawmakers from releasing the alternative index.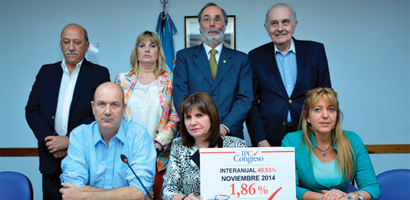 Despite a real inflation rate of over 40 percent, and unreliable official statistics, Cabinet Chief Jorge Capitanich said that the IPC Congress represents a "a lack of respect to democracy, the Congress, and the majority."
Although the government agency responsible for drawing up official statistics, the National Institute of Statistics and Census, has yet to publish inflation figures for November, they reported the October rate at 1.2 percent — half the rate reported by the IPC Congress.
On Wednesday, the IPC Congress announced the alternative inflationary index for November. Based on an average of private estimates, the IPC Congress estimates inflation reached 1.86 percent last month, and a compounded annual inflation rate of 40.53 percent. After Venezuela, Argentina has the highest inflation rates in Latin America.
In early December, Economy Minister Axel Kicillof suggested private consultants offer "no consistency" in their price estimates. "They call it IPC Congress, but in reality it is the IPC of the opposition. Regarding the methodology, they don't even measure price; they just calculate an average of private estimates," said the minister.
Kicillof added he believes there is a "political motive to create unrest" behind the IPC Congress.
Opposition deputies began releasing the IPC Congress in 2011, when then-Secretary of Commerce Guillermo Moreno fined private consultants for releasing their own inflation estimates. Former Secretary Moreno is set to face trial for his actions.