On Tuesday, the Revolutionary Armed Forces of Colombia (FARC) have released two of the five hostages captured earlier this month, according to a statement from the International Committee of the Red Cross (ICRC).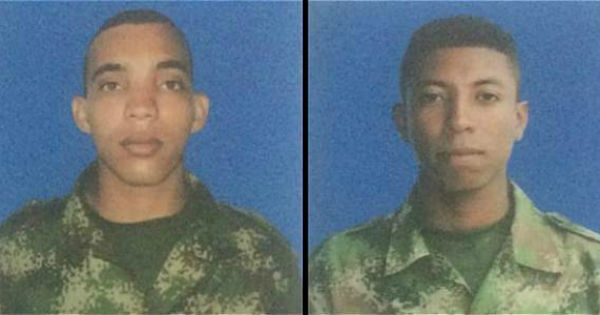 "An ICRC medic part of the mission checked on the soldiers to make sure they were fit to travel," said the ICRC. "They were transported in a helicopter with the ICRC logo to Tame, Arauca, where they were handed over to representatives of the [Colombian] Army."
Rebels captured César Rivera, 24, and Jonathan Díaz, 23, on November 9, after the guerrilla clashed with the Colombian Army, killing one soldier and wounding three others.
#ATENCIÓN soldados César Rivera y Jonathan Díaz ya están en poder del @CICR_es. Del secuestro ahora a la libertad con nuestro @COL_EJERCITO

— Mindefensa (@mindefensa) November 25, 2014
Soldiers César Rivera and Jonathan Díaz are with the ICRC. Hostages are freed with our Colombian Army.
In a separate incident on November 17, the FARC captured three other military members, including a senior army general, Rubén Dario Alzate. Colombian President Juan Manuel Santos suspended peace talks with the guerrilla underway in Havana, Cuba, until the captives are released.
However, Timoleón "Timochenko" Jímenez, a top FARC commander, has warned President Santos that releasing the remaining captive "might not be that easy." He claims the Colombian government is making the releases difficult by conducting military operations in the area, and says new rules for negotiation may be necessary.
Jímenez also noted that Santos's promise that "nothing that occurs on the battlefield should affect the course of negotiations." The government agreed to proceed with negotiations without agreeing to a mutual ceasefire, but FARC representatives continue pushing for a bilateral truce.
According to the release agreement signed between the Colombian government and the guerrilla, Santos suspended military operations in the eastern border region of Arauca to allow for the release.
Sources: Azteca Noticias, BBC.