EspañolOn Monday, representatives from Mercosur and the Pacific Alliance met during a special summit held in Santiago, Chile. The series of meetings dubbed the "Dialogue on Regional Integration: Pacific Alliance and Mercosur" are aimed at increasing intra-regional trade, and strengthening the trade blocs' presence internationally.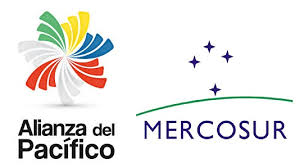 "Finding the convergence between two different integration mechanisms, but with similar goals, should be a reality," said Chilean President Michelle Bachelet to open the summit. Participants hope to achieve stronger economic growth amid an unfavorable international environment.
"We must put aside, once and for all, the prejudice that there are two opposing blocs that do not talk to each other," said the president.
Bachelet added that it was not realistic to expect either trading bloc to take steps toward achieving tariff and regulatory uniformity, despite the possibility of reaching agreements in other areas.
Representatives of each member country discussed agreements that would permit freedom of passage for citizens throughout the South American region, cooperation on health care, infrastructure, exports, and tourism. Officials also discussed topics such as energy, science, technology, value chains, and the internationalization of small business enterprises.
"We do not expect [this meeting] to be the first pieces of a utopia … but rather a possible reaility. From this historic meeting, we expect to take the first steps on a shared path of development for our Latin America, and for each of our nations," Bachelet said.
Chile, Colombia, Mexico, and Peru makeup the Pacific Alliance, while Mercosur is comprised of Argentina, Brazil, Paraguay, Uruguay, and Venezuela.
Source: Reuters.