EspañolThe Argentinean government has purchased nearly US$2 million worth of mass surveillance equipment, according to a report from the German government.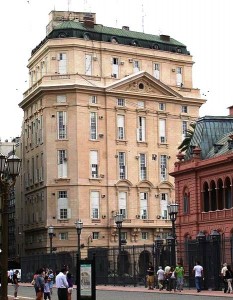 The report, signed by Germany's Federal Minister of Economic Affairs and Energy Rainer Sontowski, states that Germany sold Argentina surveillance technology capable of intercepting emails and cell phone calls. In 2010, the Argentinean government paid €1,183,000 (US$1.47 million) for the equipment, followed by a second purchase in 2011 for €169,357 (US$211,000).
The report came as a response to an inquiry launched by the German Green Party, who have expressed concerns over the potential for governments to use this technology to infringe on individual privacy rights, and illegally spy on their political opposition, human-rights activists, and journalists.
Sontowski said that before these purchases are approved, the German government analyzes the human-rights situation in the buyer nation and demands a signed certificate of its final destination. The German government has previously blocked the sale of surveillance technology to countries such as Iran, Syria, and Bahrain.
According to the report, the equipment went into the hands of the Argentina's Secretariat of State Intelligence (SIDE) and the Directorate of Military Intelligence. The latter agency is led by Army Commander César Milani, who is believed to have played a role in Argentina's last military dictatorship (1976-1983).
In recent years, amid a growing power struggle between the competing intelligence agencies, President Cristina Kirchner has increasingly favored the military.
Miguel Baze, an opposition congressman and member of the Bicameral Committee on Oversight of Intelligence Agencies and Activities, said the ruling majority has kept the committee from acquiring information on the surveillance equipment purchased, and in what way these agencies are using it.
Julio Martínez, former chair of the Defense Committee of the Camber of Deputies, has warned about the possibility of the equipment being used for domestic surveillance operations.
According to Wikileaks founder Julian Assange, "Argentina has the most aggressive surveillance system in all of Latin America."
Source: Clarín.