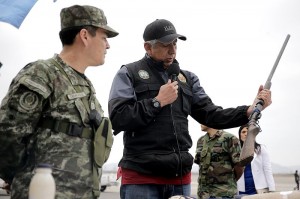 EspañolThe Peruvian military arrested two suspected members of the Shining Path guerrilla group on Thursday after a gun battle, according to the Peruvian Armed Forces Joint Command.
Authorities identified the suspects as César Valencia Curo and Emilio Meléndez Borda, the latter believed to be a cousin of Alejandro Borda, a former Shining Path commander also known as "Comrad Alipio."
A military patrol reportedly intercepted their vehicle just after midnight on Thursday as the pair was traveling. A confrontation then took place on a road near the town of Panti Tinuy, in the southern province of Huanta, region of Ayacucho.
Once the shootout was over, soldiers confiscated two rifles, a pistol with two magazine clips, magazine clips for an UZI submachine gun, a FAL combat rifle, and PER$700 (roughly US$240) in cash.
Officers also arrested the driver of the vehicle, Josías Romero, as well as a woman who claimed to be his wife.
The Maoist Shining Path insurgency erupted in the 1980s and killed tens of thousands of people throughout Peru before being defeated in 1992. Remaining group members have since retreated into the southern jungles of Peru, where they continue to run fringe operations and take refuge from authorities.
Local authorities believe the Shining Path has allied themselves with the VRAEM drug cartel, which is responsible for much of the cocaine produced within the South American nation. The majority of Peruvian coca, the plant from which cocaine is produced, is grown in the densely forested mountains of the Ayacucho region.
Source: Terra.