EspañolRussia will send long-range bombers on patrol missions near the Caribbean and Gulf of Mexico, according to a statement from the Russian government on Wednesday.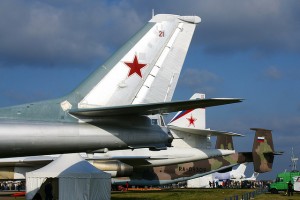 Amid increasing tensions with the West, Defense Minister Sergei Shoigu said Russian long-range bombers will conduct flights along Russian borders and over the Arctic Ocean.
"In the current situation we have to maintain military presence in the western Atlantic and eastern Pacific, as well as the Caribbean and the Gulf of Mexico," he said.
The announcement came after a NATO report indicated a recent surge in the number of Russian military flights over the Black, Baltic, and North seas, as well as the Atlantic Ocean.
Ian Kearns, director of the European Leadership Network, a London-based think tank, said that the new bomber flights "aren't necessarily presaging a threat," but "the more instances you have of NATO and Russian forces coming close together, the more chance there is of having something bad happening, even if it's not intentional."
Regular patrol missions with nuclear-capable bombers over the Atlantic and Pacific oceans were a common practice during the Cold War. However, the collapse of Soviet Union and the subsequent economic crisis forced the Russian government to reduce the number of flights. Since President Vladimir Putin assumed power, the Kremlin resumed patrol missions, which have increased in frequency.
Earlier this year, Shoigu said Russia was planning to expand its worldwide military presence, seeking permission for navy ships to use ports in Latin America, Asia, and elsewhere for resupply and maintenance service.
The annexation of Crimea has reignited tensions between Russia and the West. In September, the US Air Force intercepted six Russian military planes near Alaskan airspace, while the Canadian Air Force intercepted another two planes flying close to their own airspace. In the same month, Russian forces also reportedly abducted an Estonian security official who was taken to Moscow and charged with espionage.