EspañolFor the second time in less than 10 days, Judge Susana Barreiros has delayed the trial of Venezuelan opposition leader Leopoldo López.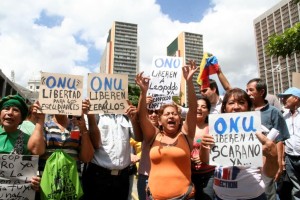 López, held in military prison since February on charges of inciting violence during anti-government protests, had a hearing scheduled in Barreiros's court on Tuesday. According to López lawyer, the trial will instead resume on November 11.
"The hearing scheduled for today [Tuesday] is delayed, López was not tranferred, and the trial will resume next Tuesday, November 11," said Juan Carlos Gutiérrez in a press release. "Evidently, a court that has not responded to the United Nations is incapable of going on with this trial."
Barreiros's court has been suspended for over three weeks, which López's lawyers consider to be a purposeful delay to avoid responding to the UN Working Group on Arbitrary Detentions and their calls for López's immediate release.
"The court's decision to delay is without basis and invalid. This has been our position to present a writ of amparo to the Appeals Court, from which we are still awaiting a response," said Gutiérrez. "We hope to have the court respond to the United Nations in the next few days."
Freddy Guevara, deputy coordinator of Lopez's political party Popular Will, called the judge's behavior "irresponsible," and accused her of "being afraid" to issue a ruling.
"If Judge Barreiros ignores the UN resolution calling for López's freedom, she should be afraid that history will judge her as a great human-rights violator," said Guevara.
Last week, López's wife, Lilian Tintori, and the wives of other political prisoners presented allegations that their husbands are being tortured at the military prison where they are being held.
According to Amnesty International, the Venezuelan government is set to appear before the UN Committee against Torture on Wednesday, for the first time in 10 years. The committee will "scrutinize the state's compliance with the Convention against Torture and Other Cruel, Inhuman and Degrading Treatment or Punishment," reports the human-rights organization.