A sheriff in Clark County, Ohio, has refused to participate in and continue "no refusal" checkpoints for suspected drunk-drivers. These have sprung up across the both the state and the nation.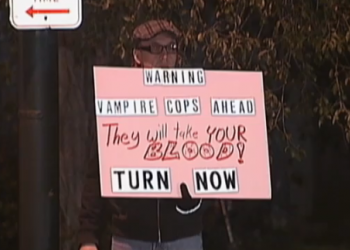 On October 24, Clark County implemented checkpoints, "an enforcement strategy that allows jurisdictions to obtain search warrants for blood samples from suspected impaired drivers who refuse breath tests," as explained by the National Highway Traffic Safety Administration (NHTSA).
The controversial program soon drew local protesters who warned drivers about the approaching checkpoints. They alleged that the tests violate privacy protections enshrined within the Fourth Amendment of the United States Constitution, since they subject drivers to an unreasonable type of search.
Though 464 drivers drove past officers, no warrants were issued for compulsory blood tests. However, Clark County police arrested two under-the-influence drivers who tried to avoid the NRC by turning before it.
Following the protests, Clark County sheriff Gene Kelly claimed that the Sheriff's Office would not take part in further checkpoints.
"If this is not a positive event, then we need to find another way to do our job and create an environment of public safety, and I'm intending to do that," Kelly said.
Lieutenant Tom Zawata of Springfield, seat of Clark County, said he does not know if the initiative will be used again this year.
"We chose to use it at this checkpoint as a way to make the public aware there is an opportunity and existing ability to attain a search warrant," Zawata said.
The NHTSA has been providing grants and tool kits for authorities nationwide that adopt the compulsory blood-test checkpoints on weekends.
Sources: BenSwann.com, Whio.