EspañolHonduras and Peru will sign a free trade agreement before the end of the year, according to an announcement made on Thursday by Honduran President Juan Orlando Hernández in New York.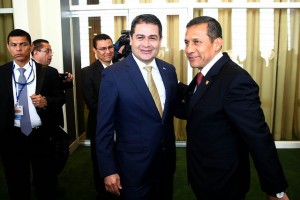 "A visit by senior officials and businessmen from Peru to San Pedro Sula is the only thing missing. We will probably be ready [to sign the agreement] in November," said Hernández after meeting with Peruvian President Ollanta Humala.
Following the meeting, President Hernández invited Humala to visit Honduras: "We have invited President Ollanta Humala to come to Honduras to sign the agreement. Otherwise, we are going to do it during the climate change summit in Peru."
They also discussed issues related to trade, mining, and Honduras's intentions to become a full member of the Pacific Alliance, a Latin-American trade bloc composed of Mexico, Peru, Colombia, and Chile.
In statements to Honduran newspaper La Prensa, the Peruvian president emphasized the bilateral relationship between the two countries: "We identify closely with Honduras. We have a free trade agreement that, God willing, we will sign this year. This is an opportunity for both nations," said Humala.
Hernández also highlighted the potential for the Pacific Alliance to support the Zones for Employment and Economic Development (ZEDEs) in Honduras.
The news of a free trade agreement between the two countries comes only days after Honduras announced a similar agreement with Canada.
Fuentes: La Prensa, Proceso Digital.