EspañolA video released Thursday shows a member of the Argentinean National Gendarmerie pretending to be hit by a car in order to stop the vehicle and arrest the driver. The man was participating in a protest held by former employees of a factory on the outskirts of the city of Buenos Aires.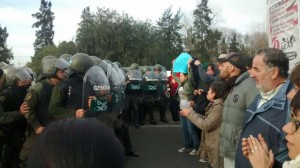 The incident occurred on July 30, but the video only surfaced on Thursday, September 4.
The footage, recorded by members of the Socialist Workers Party (PTS), shows a group of National Gendarmerie officers approaching a vehicle that was engaged in the protests. Commander Juan Alberto López Torales can then be seen deliberately throwing himself on the windshield of the car, causing an accident.
What appear to be roughly seven officers then immediately remove the driver aggressively from the vehicle and arrest him.
Prosecutor Diego Molina Pico charged the driver with negligent injury, assault, and resisting arrest. The PTS also claims that one of the uniformed officers was a retired colonel who attempted to infiltrate the protests to gather intelligence.
https://www.youtube.com/watch?v=pILVtMCXsC8
According to Secretary of Security Sergio Berni, the officer "acted in clear respect of the laws." Berni added that he had "no reason to condemn" the officer.
"Captain Lopez Torales acted according to law and procedures police use to clear the roadways that had been blocked by a group of people committed to interrupting the normal flow of traffic for all citizens," he continued.
Myriam Bregman, lawyer for PTS, criticized the actions of the police force. "As is his custom, Berni is telling outrageous lies. [The driver] Christian Romero is incredulously charged with assault, resisting arrest, and crashing into López Torales, as it currently stands, in the case being led by Diego Molina Pico. Berni defends this type of action. If it was not a serious issue, it would be funny to hear the Security Secretary say that López Torales 'tripped,'" she said.
Source: Infobae.