EspañolYesterday afternoon the socialist government of Ecuador banned bitcoin, and all decentralized digital currencies, as part of a reform to the country's monetary and financial laws. The legislation gained approval from 91 members of parliament, with 22 votes against and 3 abstentions. President Rafael Correa, who introduced the bill, will now sign it into law.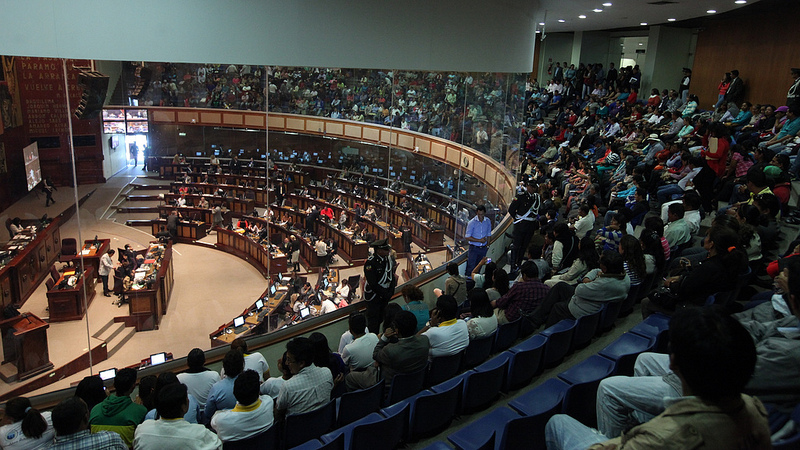 Part of this new reform allows the government to make payments in digital currency. It also proposes the creation of an Ecuadorian state digital currency, to be backed up by the assets of the the central bank. Ecuador currently uses the US dollar as its official currency, and this new currency will be integrated into the country's financial system, although the precise implementation details remain unknown.
"Digital money will stimulate the economy; it will be possible to attract more Ecuadorian citizens, especially those who do not have checking or savings accounts and credit cards alone. The digital currency will be backed by the assets of the Central Bank of Ecuador," the National Assembly said in a statement.
This new reform comes as a severe blow to the bitcoin industry in Ecuador, since it demands that they shut down their operations immediately. Those who defy the ban will face prosecution, and all bitcoins circulated and assets in bitcoin trades face confiscation.
In addition to the ban on bitcoin and other digital currencies in Ecuador, this reform imposes new regulations on the financial system, as well insurance and stock markets. With these new rules, the state seeks to "insure the deposits — the assets that Ecuadorians possess in public and private banks, credit unions, and all types of credits in the national financial system — though a deposit-guarantee system."
Source: International Business Times, National Assembly of Ecuador.