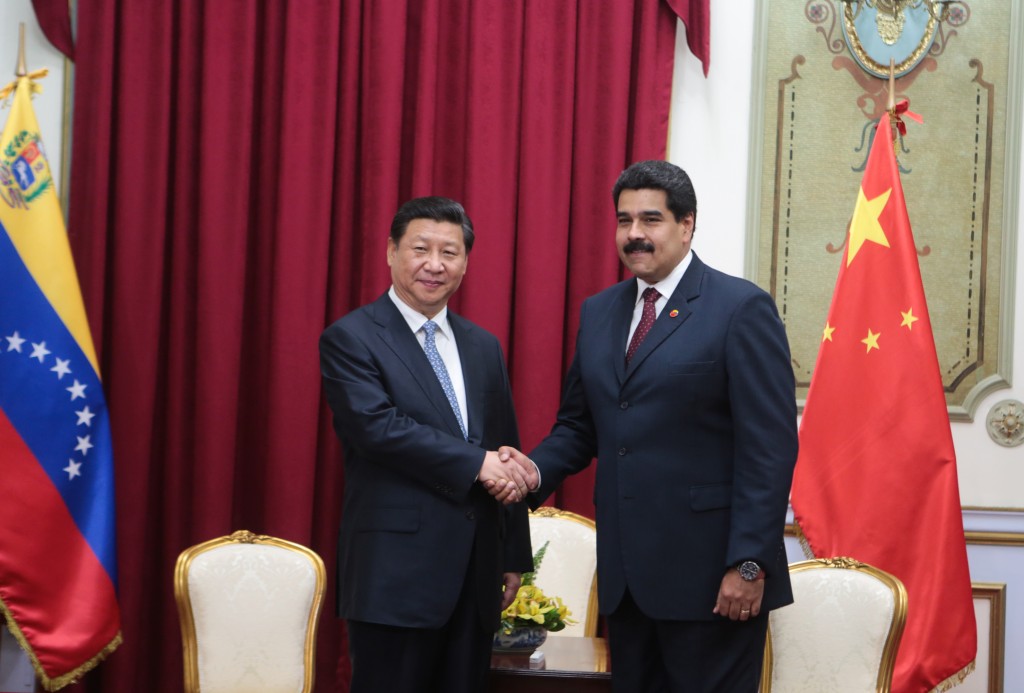 After a private meeting at the Miraflores Palace, President of Venezuela Nicolás Maduro and his Chinese counterpart, Xi Jinping, announced the creation of a new "integral strategic partnership" between their countries.
"We have decided to upgrade our relationship to a higher level and create an integral strategic partnership between China and Venezuela," said Maduro during a formal ceremony with the Chinese president.
During the meeting, Maduro emphasized the achievements of the China-Venezuela Fund. Since 2007, the fund has helped support Venezuelan government initiatives, such as the Gran Misión Vivienda housing program.
Maduro also announced the future construction of a new household appliance factory in the state of Miranda, built with an investment from the Chinese. He also stated the two countries plan to strengthen their partnership in the automotive industry and expects future Chinese investments in energy, telecommunications, infrastructure, military, and security sectors, among others areas.
China has previously provided Venezuela with loans totaling nearly US$40 billion since 2008, which Venezuela has been paying back with oil. The funds, however, have not translated to significant improvements in the Venezuelan economy. A large part of the money borrowed from China has gone unaccounted for, which the Venezuelan government has explained as "mismanagement."
"The loans that Nicolás Maduro has received from China have not translated into a single benefit for Venezuelans," said Henrique Capriles Radonski, former presidential candidate and governor of Miranda state.
Before the Chinese president's visit, Venezuelan Foreign Minister Elías Jaua convened the 13th High-Level Venezuela-China Mixed Commission last Saturday at the Yellow House, site of the Ministry of Foreign Relations, where Beijing and Caracas representatives participated.
"I look forward to two days of productive work, in which officials from both countries will focus all their energy on making tangible, with efficient technical work, what both governments have decided based on the people's will. We happily wait for the president of China to visit us. Long live the Chinese-Venezuelan friendship," expressed Jaua.
Caracas and Beijing signed 400 agreements covering a wide range of industries, such as energy, oil, education, health, technology, trade, housing, agribusiness, infrastructure, culture, and sports.
Critics argue that these bilateral agreements will only function as a temporary patch for a troubled economy surrounded by shortages of food, medicine, auto parts, among other goods.
"The results from the bulk of the infrastructure projects that China has invested in have left much to be desired," said Asdrúbal Oliveros, head of Ecoanalítica, a local consultancy which monitors Venezuela's economy.
Sources: El Universal, El Nacional, Wall Street Journal.