EspañolThe President of Russia Vladimir Putin will begin a Latin American tour at the end of the week, beginning with Cuba. According to Nezavisimaya Gazeta, the Russian leader will meet with Fidel Castro to discuss issues related to "technical-military cooperation between Moscow and Havana," among other topics.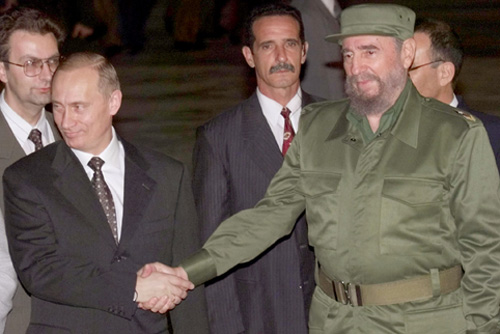 "An informal meeting with Fidel Castro will take place. He is 87 years old, no longer in charge of the country, nor the party, but he remains the leader of the Cuban revolution. He also continues being interested in the development of world events," said Putin's adviser, Yuri Ushakov.
In December, Russia forgave 90 percent of Cuba's Soviet-era debt, approximately US$35.2 billion. Both parties also agreed that the remaining US$3.5 billion would be repaid over a 10-year period.
President Vladimir Putin then plans on traveling to Argentina and Brazil between July 11-16. His first official visit to Argentinean land is scheduled for July 12. On July 13, he will leave for Brazil to attend the World Cup's final match. The Russian president then rounds out his tour by taking part in the BRICS summit in Fortaleza, Brazil, on July 15.
According to Vladimir Davidov, director of the Latin American Institute at the Russian Academy of Sciences, Putin's tour of Latin America is a "demonstration of respect" and understanding of the important role it plays "in the global, political economy."
Sources: Cubanet, El Universal