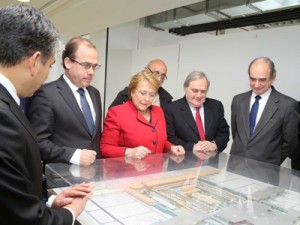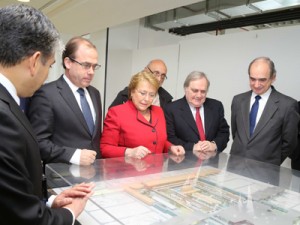 EspañolPresident Michelle Bachelet unveiled on Thursday plans for US$28 million infrastructure projects aimed at providing the basis for strong development in Chile for over the next seven years.
Bachelet, who began her second term this March, said the plan encompasses two main areas of investment: an estimated $18 billion to improve road infrastructure and $9.9 billion in concession-operated roads.
Bachelet said the plan "addresses the challenges we face in terms of public infrastructure in the short and long term," during her visit to Santiago's International Airport, which will be her first large concession project.
"When we talk about the long term challenges, we are thinking ahead of the year 2030, a year in which we as a country aspires to have $30,000 per capita income. We must not let this opportunity pass. We'll only achieve development if we invest strongly and constantly in public infrastructure," she added.
The head of state explained that to achieve high quality levels of infrastructure and public goods, it is necessary to increase the country's capacity to invest in that area, reaching 3.5 percent of GDP. Currently, Chile invests around 2.5 percent.
This new infrastructure plan of $28 billion translates into 1.7 percent of Chile's gross domestic product annually, added to the already planned investments in housing, health and transportation, boosting Chile's yearly infrastructure spending to 3.5 percent of GDP.
Bachelet concluded that "Chile has undertaken a series of transformations to reduce levels of inequality and to have inclusive and sustained growth"
Sources: Reuters, Global Post.