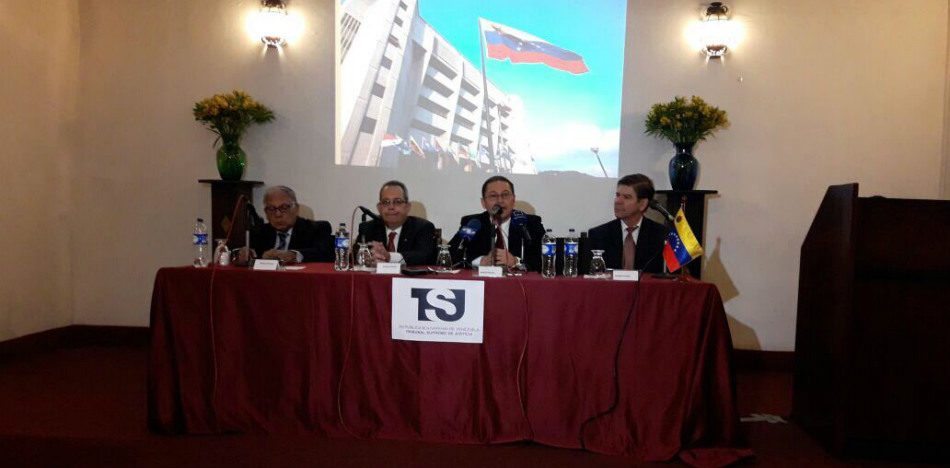 Español The Criminal Cassation Chamber of the legitimate Venezuelan Supreme Court has decided, from exile, to submit human rights violation charges against Nicolás Maduro's regime with the International Criminal Court in The Hague.
"Given the inactivity of the Courts of the Republic of Venezuela, as well as the lack of investigation by the Public Prosecutor's Office … we hereby send our formal charges and all relevant attachments to the Office of the Prosecutor of the International Criminal Court and a certified copy of it to the Security Council of the United Nations," a Supreme Court statement said.
The decision to send the case to the Hague was motivated by the fact that the Criminal Cassation Chamber is not formally responsible for pressing charges in and of itself, as this "is a function exclusive to the Attorney General's Office of the Bolivarian Republic of Venezuela."
The legitimate Court also "asks the Security Council of the United Nations" to consider taking action against high officials of the regime and alerting Interpol so they can respond to the complaint of the violation of human rights.
The court named Nicolás Maduro along with Minister of the Interior Néstor Reverol, Minister of Defense Vladimir Padrino López and other members of the Chavista government.
20/11 Sala de Casacion Penal ordena remitir denuncia de violación sistemática de derechos humanos a la Fiscal de la Corte Penal Internacional pic.twitter.com/56CqlLffpw

— TSJ_Legítimo (@TSJ_Legitimo) November 20, 2017
Though the Supreme Court is not recognized by the Venezuelan dictatorship, it does have the support of the international community. The Organization of American States (OAS) recognizes them, and has even given them space in their headquarters. The European parliament recognizes them too because they were legitimately appointed by the Venezuelan National Assembly.
President of the Criminal Cassation Chamber Pedro Troconis read the decision to press charges before the International Criminal Court from Miami, Florida. The judges remain in exile due to their persecution by the Maduro regime as soon as they were appointed by the National Assembly.
— PEDRO TROCONIS (@pedrotroconis) November 20, 2017
The charges sent to The Hague by the Supreme Court are another in a long list of measures being taken against Maduro by the International Supreme Court. The Attorney General of Venezuela, also in exile, Luisa Ortega Díaz, has also appealed to The Hague with a long list of complaints. In the meantime, the OAS is discussing the possibility of pressing charges with the court.