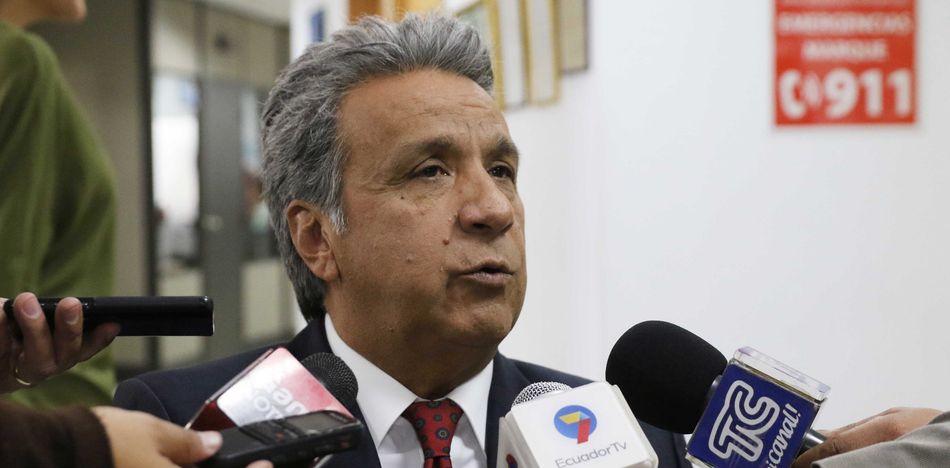 EspañolEcuador President Lenin Moreno met with Paul Manafort earlier this year, the former campaign chief of United States President Donald Trump. Manafort is accused of money laundering and other charges by a federal grand jury.
According to the statement from Ecuador's National Secretariat of Communication (Secom), Moreno met with Manafort after he won the presidency in April. The meeting was reportedly held during a period in which Moreno was seeing many leaders, diplomats and representatives from around the world in order to strengthen Ecuador's presence around the world.
Manafort ran the Trump presidential campaign between June and August 2016 before resigning over a corruption scandal linking him to Russian influences in Ukraine. He faces seven charges for not reporting accounts in foreign banks. He is also accused of conspiracy against the United States, money laundering, not registering as an agent of a foreign entity, providing misleading information in documents subject to the Law on Registration of foreign agents in the country and providing false statements.
Manafort has pleaded not guilty; however, the indictment alleges that Donald Trump's former campaign chief had received tens of millions of dollars that were hidden during his work as a political consultant, which were laundered through "dozens of corporations, associations, and US and foreign bank accounts."
According to the information published by Secom, Moreno met with Manafort because he was part of the delegation "of a Chinese company that had expressed interest in acquiring a percentage of the shares of the National Electricity Corporation (CNEL EP )" — a transaction that never took place because it violated regulations.
The meeting was requested by the director of the polling company that worked with Moreno during his electoral campaign, Santiago Cuesta, at a time when "there were no judicial charges against Manafort," according to a statement issued by Secom.
Comunicado del Gobierno Nacional referente a un encuentro del ese entonces Presidente electo @Lenin Moreno con la delegación de una empresa china. pic.twitter.com/6hT2trZjZc

— Comunicación Ecuador (@ComunicacionEc) November 20, 2017
Ecuador's explanation comes only two days after Moreno's predecessor, Rafael Correa, accused them of meeting "in secret" and demanded explanations from the current administration.
"If they met secretly it's because they are hiding something," Corera said. "It's very worrying that there was a visit from a guy like Manafort and that this visit to the Ecuadorian people has been kept hidden."
However, last September a spokesman for Moreno had already mentioned the President met with Manafort, though he gave no explanation for the meeting.
Manafort and Moreno met while Manafort was traveling around the world proposing business deals with various international interests, including with China.
The New York Times reported that the meeting between the two men actually took place before Moreno became president.
An article published by the newspaper 4 Pelagatos points out that Correa's statements were, "as usual," ill-intentioned, "distorting the true implications that (The New York Times) gives to the meeting" between Moreno and Manafort.
Sources: La República; El Telégrafo; CNN; 20 minutos; El Comercio; 4pelagatos.