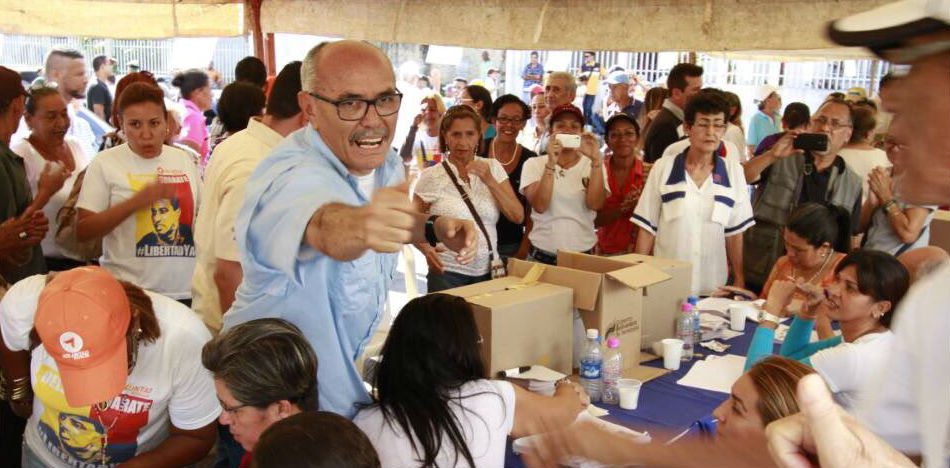 EspañolThe Venezuelan opposition coalition announced the official results of its gubernatorial primaries this Wednesday, September 13.
The Democratic Unity Roundtable, known by the acronym MUD in Venezuela, announced the winning candidates, who will now have to run against officials that align themselves with President Nicolás Maduro's regime, which many claim will fix the results.
The state of Aragua voted for Ismael Garcia with 47.7 percent. The state of Barinas elected Freddy Superlano with 35.3 percent of the vote, according to MUD's electoral commission. The state of Bolívar elected Andrés Velásquez with 54.3 percent
The coalition took more than 48 hours to announce the primary results, which were filled with controversy, violence, mudslinging and accusations. Ultimately, the party that appeared at the front of the pack was that of former National Assembly President Henry Ramos Allup: Democratic Action, which secured 12 representatives. Justice First won four candidates, followed by Copei, Radical Cause and Progressive Advance, with one candidate each.
Though Democratic Action has lost its strength in recent years, it seems that they have been able to resurrect some of the dominance they held through most of the 20th century. Meanwhile, the Popular Will party, led by famous political prisoner Leopoldo López, shocked many by failing to win a single position.
The primaries took place surrounded by much controversy, as the opposition remains divided about whether it should participate in regional elections at all. Additionally, the process revealed many political differences within MUD that leaders had previously tried to hide in order to maintain an image of unity.
For example, Democratic Action's Ismael Garcia allegedly won the state of Aragua, but Justice First maintains that the winner was their candidate, Juan Pablo Guanipa.
However, many officials within MUD reiterated their commitment to remain united in fighting the dictatorship.
Here are the final results, state by state:
Apure: José Gregorio Montilla (Democratic Action)
Aragua: Ismael García (Democratic Action)
Bolívar: Andrés Velásquez (Radical Cause)
Cojedes: Alberto Galíndez (Democratic Action)
Falcón: Eliezer Sirit (Democratic Action)
Guárico: Pedro Loreto (Democratic Action)
Lara: Henry Falcón (First Justice)
Mérida: Ramón Guevara (Democratic Action)
Portuguesa: María Beatriz Martínez (First Justice)
Sucre: Robert Alcalá (Democratic Action)
Táchira: Laidy Gómez (Democratic Action)
Monagas: Guillermo Call (Copei)
Miranda: Carlos Ocariz (First Justice)
Trujillo: Carlos González (Democratic Action)
Zulia. Juan Pablo Guanipa (First Justice)
Amazonas: Bernabé Gutiérrez  (Democratic Action)
Delta Amacuro: Larissa González (Democratic Action)
Yaracuy: Luis Parra (First Justice)
Mérida: Ramón Guevara (Democratic Action)
Source: El Estímulo