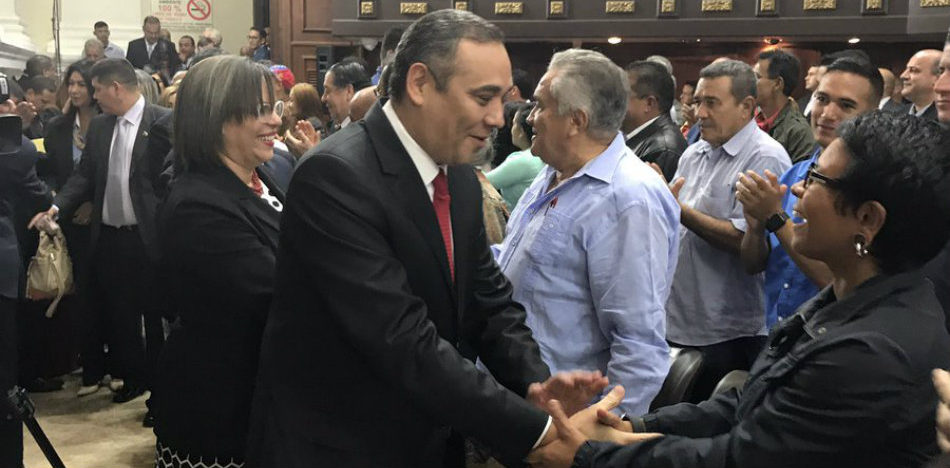 EspañolOn Tuesday, August 15, President of the Supreme Court of Justice Maikel Moreno asked the National Constituent Assembly to increase Venezuela's maximum sentence for more serious crimes from 30 years to 50 years.
"The penalties for serious crimes, which do the most damage to Venezuelan society, do not seem to correspond to the magnitude of the damage they cause," Moreno told members of the illegitimate Constituent Assembly. It was approved through fraudulent election this past July despite massive protest from citizens across the country.
"The crimes of homicide, kidnapping, treason, terrorism and robbery, I believe, in my humble opinion, should be punishable by at least 50 years," the judge said. "This is the task for all of you fellow constitutionalists."
Currently, certain crimes in Venezuela can result in the highest possible penalty of 30 years in prison. This is the first time since the Supreme Court was established that anyone has proposed increasing that sentence length.
Several of the citizens exercising their legitimate right to protest were tried for the supposed crimes of treason and terrorism after being detained, and faced 30 years themselves.
That means protesting in the streets and other demonstrations — which should be entirely legal — will not only be punishable with prison, but what amounts to nearly a life sentence.
This is just one of many examples of how Nicolás Maduro's regime is increasing its authoritarianism in the country.
ÚLTIMA HORA | Maikel Moreno pide a ANC elevar a 50 años, la pena máxima a delitos como homicidio, terrorismo, traición a la patria y robos pic.twitter.com/zWzeKVGr3Q

— AlbertoRodNews (@AlbertoRodNews) August 15, 2017
BREAKING Maikel Moreno asks ANC to extend maximum sentencing to 50 years for crimes such as homicides, terrorism, treason, and robberies.