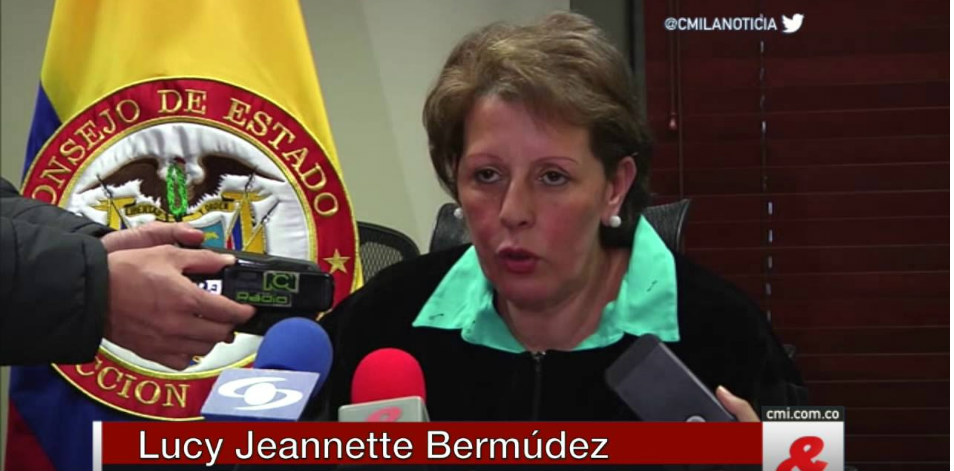 The lawyer at the Center for Conciliation and Arbitration of the Chamber of Commerce of Medellín, founder of the Legal Clinic of the University of Medellín, and member of the Democratic Center party, Daniel Sanín, reported through his Twitter account that the husband of the magistrate of the Council of State of Colombia, Lucy Jeannette Bermúdez, who invalidated the plebiscite of October 2, has large contracts with the government of Juan Manuel Santos.
On Twitter, the lawyer released a copy of a contract between Carlos Augusto Gálvez Argote and Colombian state oil company Ecopetrol for COP $125 million (about US $41,000).
The purpose of the contract, which is dated August 2015, is the provision of comprehensive legal services in all matters relating to criminal proceedings arising from irregularities noted in certain contracts entered into with the company Petrotiger. The contract entails legal advice, preparation of documents (…) as well as the eventual legal representation of Ecopetrol."
https://twitter.com/DanielSanin/status/811223924679802880
Lucy Jeannette Bermudez on Monday, December 19, currently a magistrate in the Fifth Section of the Council of State of Colombia, ruled that the Colombian Congress and President Juan Manuel Santos should continue with the peace agreement with the FARC, which was rejected by a national referendum on October 2.
Los millonarios contratos con el Estado del esposo de la magistrada Lucy Bermúdez. ¿La mermelada "familiar" que compra conciencias y fallos? pic.twitter.com/4kdbO847UY

— Any (@anasil33) December 21, 2016
In this manner, the decision of the Council of State orders the continuation of the peace agreements that were rejected by the Colombian public, thus invalidating the results of the plebiscite of last October 2.
Ex-president Alvaro Uribe and his Democratic Center party appear to be the winners of the Colombian backlash against the peace agreement, and are expected to mount a strong challenge for the presidency in 2018.